Posted by Hardwood Lumber Company on May 29th 2018
Most homes have at least one staircase and is usually in view upon entering the house. It's important to give it a good first impression.
A staircase is a structure that should not be overlooked or ignored. There are several ways to update this fundamental part of your home. If you are interested in doing this, The Hardwood Lumber Company will gladly direct you on the right path. An existing staircase can easily be renovated and improved.
It is rare to strip out an entire set of stairs and replace them, unless you have a unique proposal for a stately staircase in place of a modest set. In our opinion, a staircase should match the style and the size of the home. During this process, many variables should be taken into consideration
Common Stair Part Terms
A good way to become familiar with what goes into a stairway is learning about the anatomy of each stair part. Here are some of the commonly used terms for stair parts:
Baluster: a short pillar or column, typically decorative in design, in a series supporting a rail or coping.
Banister: the structure formed by uprights and a handrail at the side of a staircase.
Curtail Step: a horizontal, spiral termination to the lower end of a stair railing.
Finial: a distinctive ornament at the apex of a roof, pinnacle, canopy, or similar structure in a building.
Landing: a level area at the top of a staircase or between one flight of stairs and another.
Newel Post: the central supporting pillar of a spiral or winding staircase. A post at the head or foot of a flight of stairs, supporting a handrail.
Return Nosing: The moulding, a projecting edge, as the part of the tread of a step extending beyond the riser or a projecting part of a buttress.
Stair Riser: the near-vertical element in a set of stairs, forming the space between one step and the next.
Stair Tread: the horizontal portion of a set of stairs on which a person walks.
Styles and Materials
Before the remodeling process begins, a price quote is taken. Staircase remodeling expenses vary; it depends on the type and amount of material used.
Simple or intricate, modest or extravagant – what are you looking for? Stair parts can be made out of different materials such as, brick, concrete, aluminum or stone, but we provide lumber, which is most popular for residential.
Prices vary on our domestic and exotic wood. The cheapest option is carpet grade and our more expensive options include Brazilian Cherry, Clear Cherry, Clear Walnut, Quarter Sawn Red or White Oak, and Sapele. Mid-ranged priced wood includes Ash, Beech, Birch, Cherry, Hickory, Walnut, etc.
The Role of Stair Treads and Stair Risers
A full step is not complete without a stair tread and a stair riser. At the Hardwood Lumber Company, our standard stair treads are one inch thick, but can be layered with two or more boards.
If you want to improve stairs that are already set in place, retro stair treading "retreading" is the way to go. This is when treads are placed on top of an existing stair.
The benefits to investing in retro stair treads instead of brand new pieces is a safer and include a shorter installment time. It is also less labor intensive and less expensive. A stair tread return, also referred to as "nosing," is the finished edge attached to the tread that extends beyond the riser. The returns are available in left, right or double.
Staircase Design Ideas
The home's staircase should complement the surrounding atmosphere and overall design of the house. For example, a large, open home with an extravagant entryway may warrant a grand staircase with elegant characteristics. A spiral or a double staircase on both the right and left-hand side would be fitting. Spiral staircases are fitted with treads known as "winders," which are pie-shaped.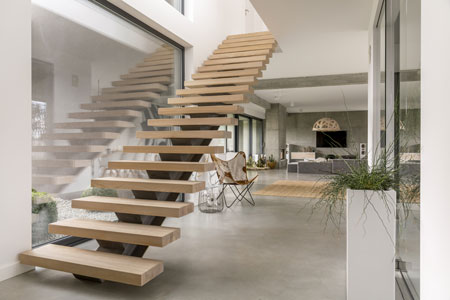 If you own a modern home, consider chic "floating" stairs. These sleek, trendy stairs are made up with triple thick treads which give the illusion that the stairs are floating. Since this style does not incorporate stair risers, correct structural engineering is needed to furnish this cantilever construction. Floating stairs can be expensive because the treads are usually three inches thick compared to the standard one inch thick and it requires more labor. The wood boards are glued together once for depth and then again for thickness.
From practical to visually appealing, other types of staircases include straight run, scissor switch, winder switch, 90-degree turn, split 180-degree turn, s-bend, spiral, curved, gallery and split.
Regardless of the style or design you are looking to achieve with your staircase, the Hardwood Lumber Company is here to help. We carry a variety of quality wood stair treads and stair risers ready for your next project. Unsure of where to start? Give us a call or visit our contact page! We can answer any questions you have and help you choose the right stair part for you.