After spending more time inside during the winter, you're probably ready to refresh your home with cheerful spring decor. Some people do major remodels during the spring, but small changes can also make a difference. Today, we are going to explore simple ways to makeover each living area in your home. These spring decorating ideas are fairly easy but make a big impact.
Add Colorful Accents to Your Living Room
You can easily spruce up your living room with colorful accents. Rugs, throw pillows, artwork, or house plants can give the room an entirely new look. All of these are simple to change, allowing you to use new accessories every season. Painting an accent wall is another great way to give the room a fresh feel without investing in a full remodel.
You may also want a piece of furniture to anchor the room. Opt for lighter and warmer tones. For example, wood is a popular spring accent. A live edge coffee table or a stool made from a round wood slab makes a great statement piece.
Change Place Settings and Utensils in the Dining Room
Getting your dining room ready for spring is quite simple. Replacing tablecloths and placemats with ones that have spring colors or floral patterns can make a big difference. If you have multiple sets of dishes, cups, and utensils, rotate them seasonally. Even if your set doesn't have a spring themed design, changing place settings still gives the room a fresh look.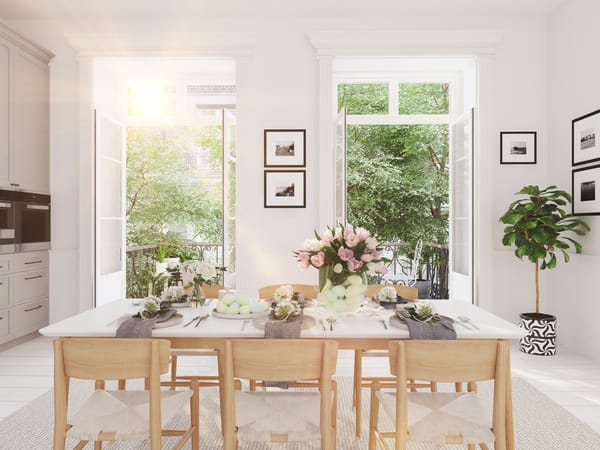 Update and Reorganize the Kitchen
Updating your kitchen can be as easy as reorganizing cabinets and drawers. Go through your kitchen appliances and gadgets, taking inventory of everything and getting rid of things you no longer use.
If you're looking for a bigger update that's still budget-friendly, consider these ideas:
Painting cabinets doesn't take much time or money but freshens the kitchen's appearance.
Consider adding a few statement items that are both beautiful and functional. For example, a wooden cutting board can be used in food prep and displayed as an accent piece.
You may also find that your countertops need an update. If you're looking to change up the material, granite and butcher block countertops are two classic options.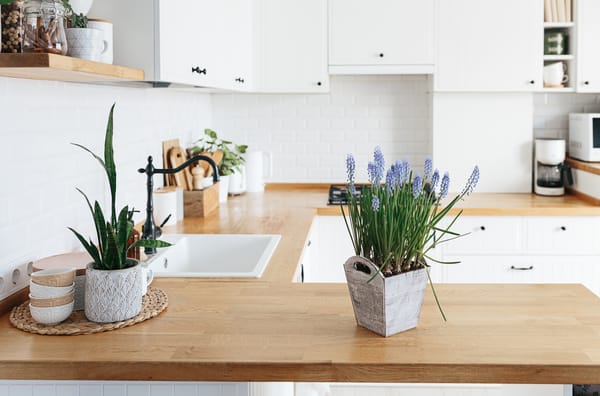 Swap Out Bathroom Fixtures
Your bathroom may also need some attention. Updating faucets is easy yet noticeable since they are used frequently. If your bathroom lacks natural lighting, making sure your light fixtures are bright enough is essential. Changing your shower curtains keeps the bathroom fresh and gives you an opportunity to add some spring colors.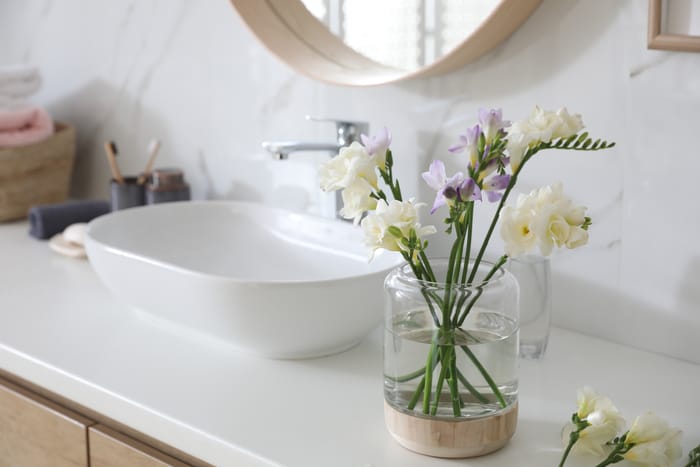 Lighten Up Bedroom Accents
Don't forget to add some spring decor to your bedroom! Changing the bedding is a quick and easy swap, especially if you use flannel sheets and heavy blankets during the winter. Even if you aren't replacing heavy winter sheets, you can still brighten up the room with colorful new bedding.
Painting the walls a bright color always makes a room look new. If you're not ready to commit to a new color, try an accent wall instead. This gives a room a modern look while blending with any existing aesthetic. Lastly, accessorize with shelving. Floating shelves give you places for pictures, plants, and knick-knacks while saving valuable floor space.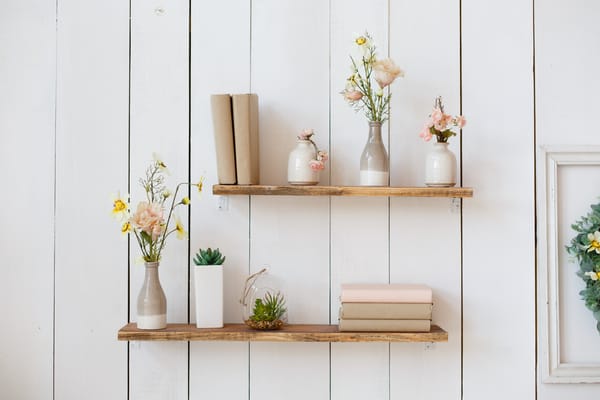 Updating your home for spring does not require a big remodel. Simple refreshes can go a long way. These spring decorating ideas will refresh your home without going over your budget.
The Hardwood Lumber Company offers custom wooden accents like butcher block countertops, stair parts, and live edge slabs. We invite you to browse our selection to find the perfect piece for your home!