Posted by The Hardwood Lumber Company on Sep 15th 2021
Fall is a major entertaining season and the perfect time to spruce up your home decor. Warm colors such as orange, red, and yellow make your home welcoming to guests. Seasonal decorations like leaves, pumpkins, and gourds will help you get into the spirit of autumn.
Whether you are having company or not, decorating tables in your home with centerpieces adds a festive tone. Today, we will explore ideas for fall centerpieces and other table decor.
1. Lay the Foundation with a Tablecloth and Runner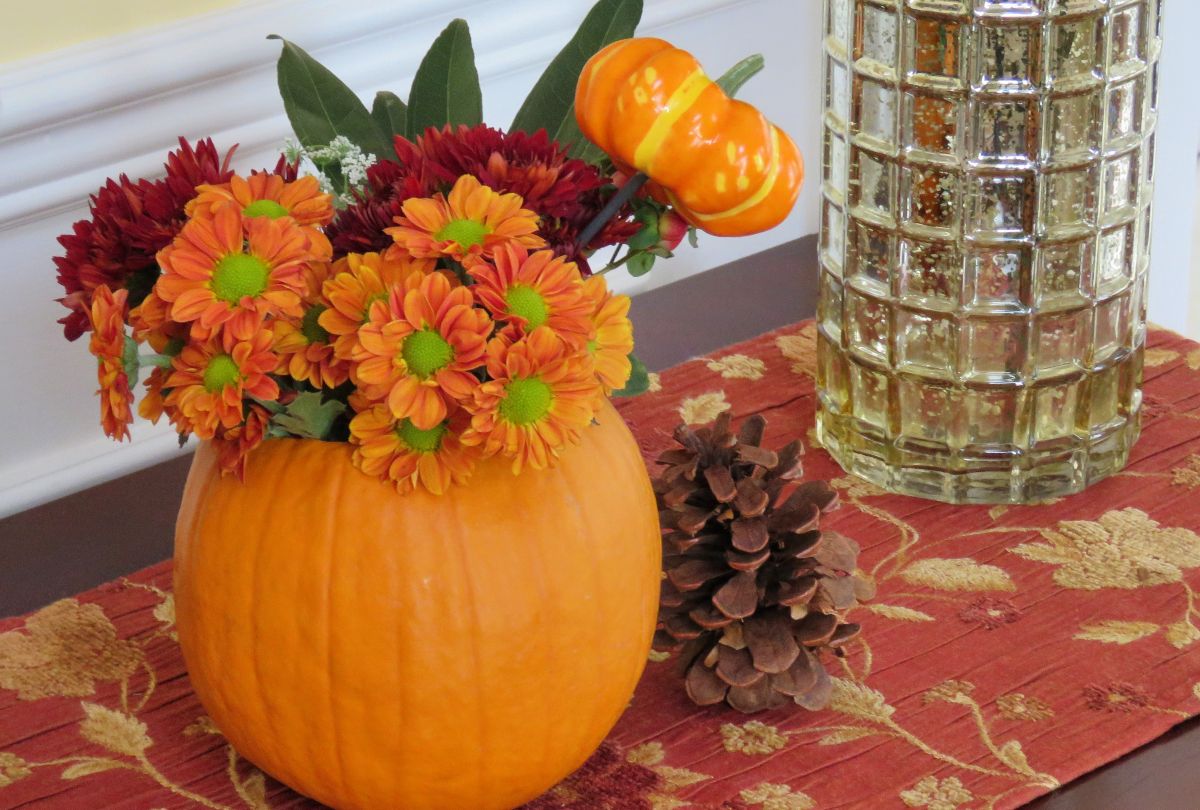 Tablecloths and runners set the tone for the rest of the decor. They can draw attention to a centerpiece or define the space for decor that runs the length of the table. Consider how elaborate your centerpiece is when choosing a tablecloth or runner. A busier centerpiece will work best with a solid colored tablecloth, preferably in muted or neutral colors. Think white, cream, dark green, or pale yellow.
If you're opting for a simpler centerpiece, you can add more visual interest with a patterned tablecloth or runner. Cozy patterns like plaid are popular with cooler weather. You can also choose a pattern with a seasonal motif like pumpkins or leaves.
2. Go Bold with Florals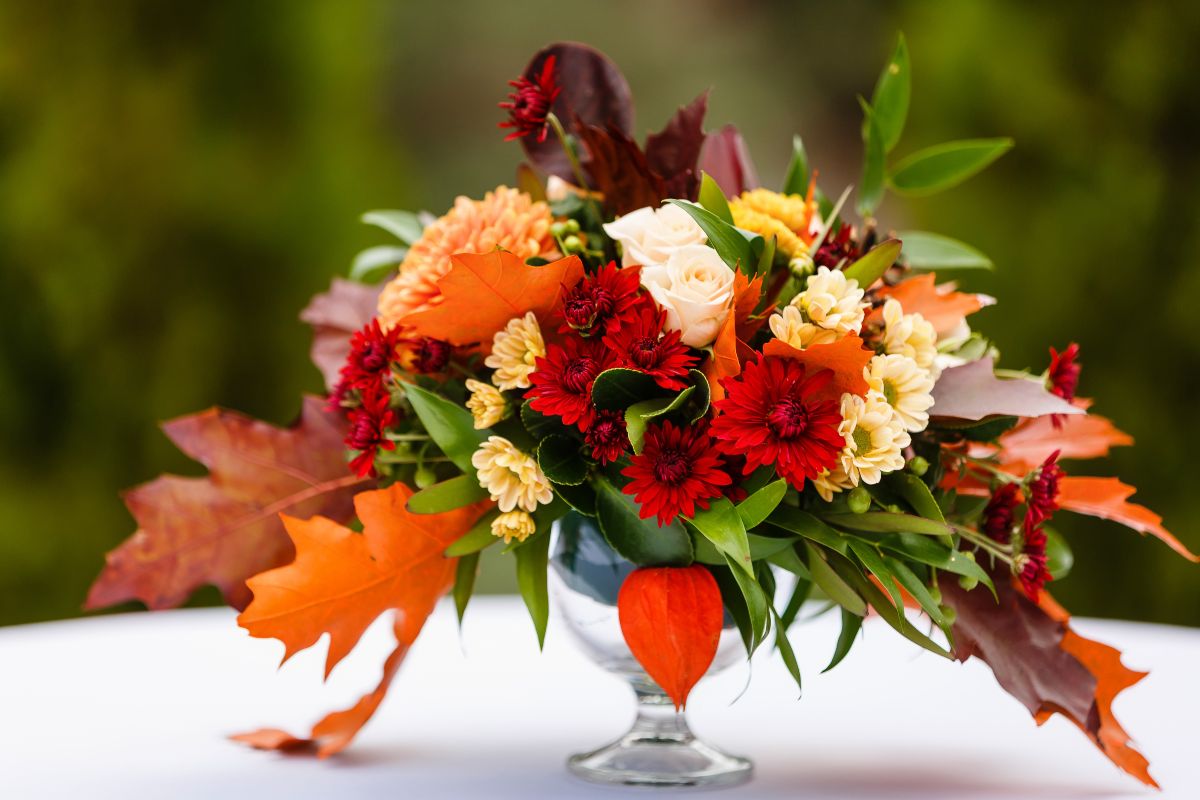 One possibility for a centerpiece is a bold floral arrangement. Artificial flowers in warm colors contrasted with greenery make an eye-catching design. Adding fall leaves and berries gives more texture to the display. The centerpiece can be used on its own or combined with other decor. It is a great way to start decorating a room.
3. Incorporate Mini Pumpkins and Gourds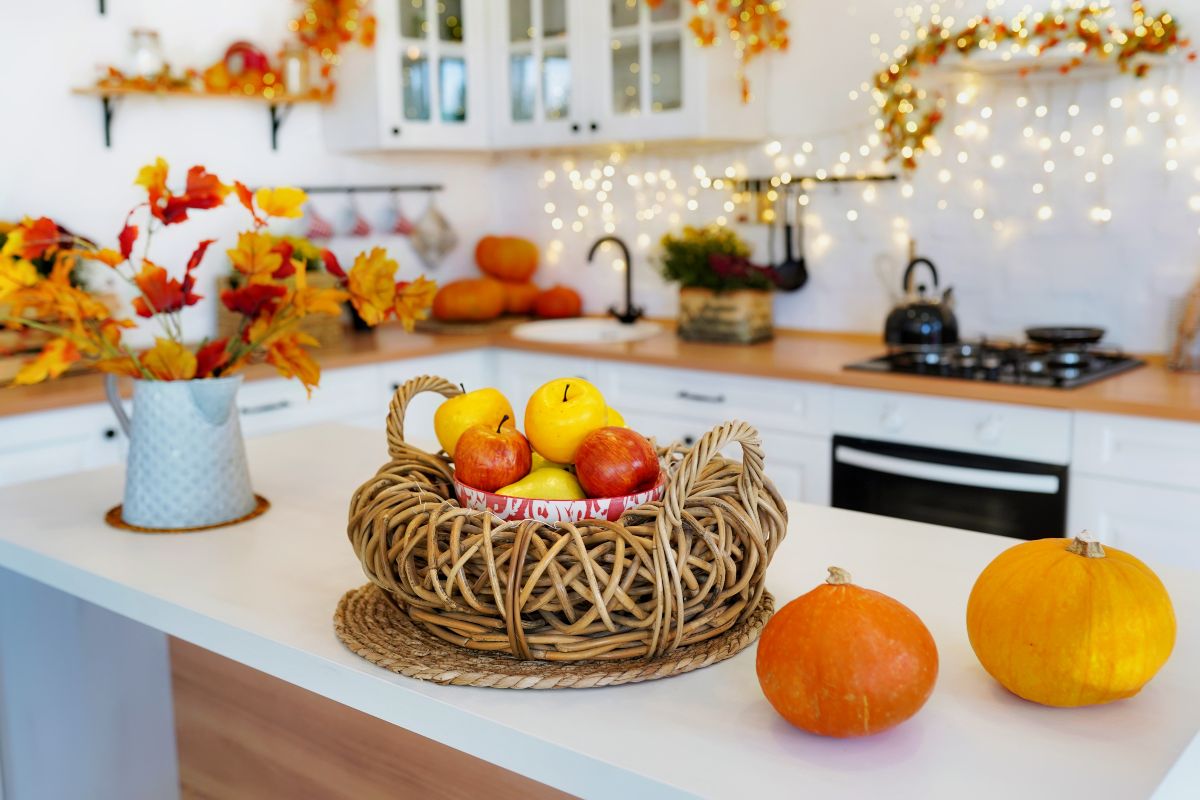 Mini pumpkins and gourds can also be incorporated into your centerpiece. They add a variety of colors, shapes, and textures. Real pumpkins can be used, but artificial ones have several perks:
They don't spoil, so they can be reused year after year. This will save you money in the long run.
They also come in many different colors, so you can choose a shade that blends with your home's color scheme.
You can choose from a variety of materials like glass, fabric, and wicker, which adds another texture to the centerpiece. Fabric pumpkins are unbreakable and safe for children to handle if they want to help decorate.
4. Make a Pumpkin Vase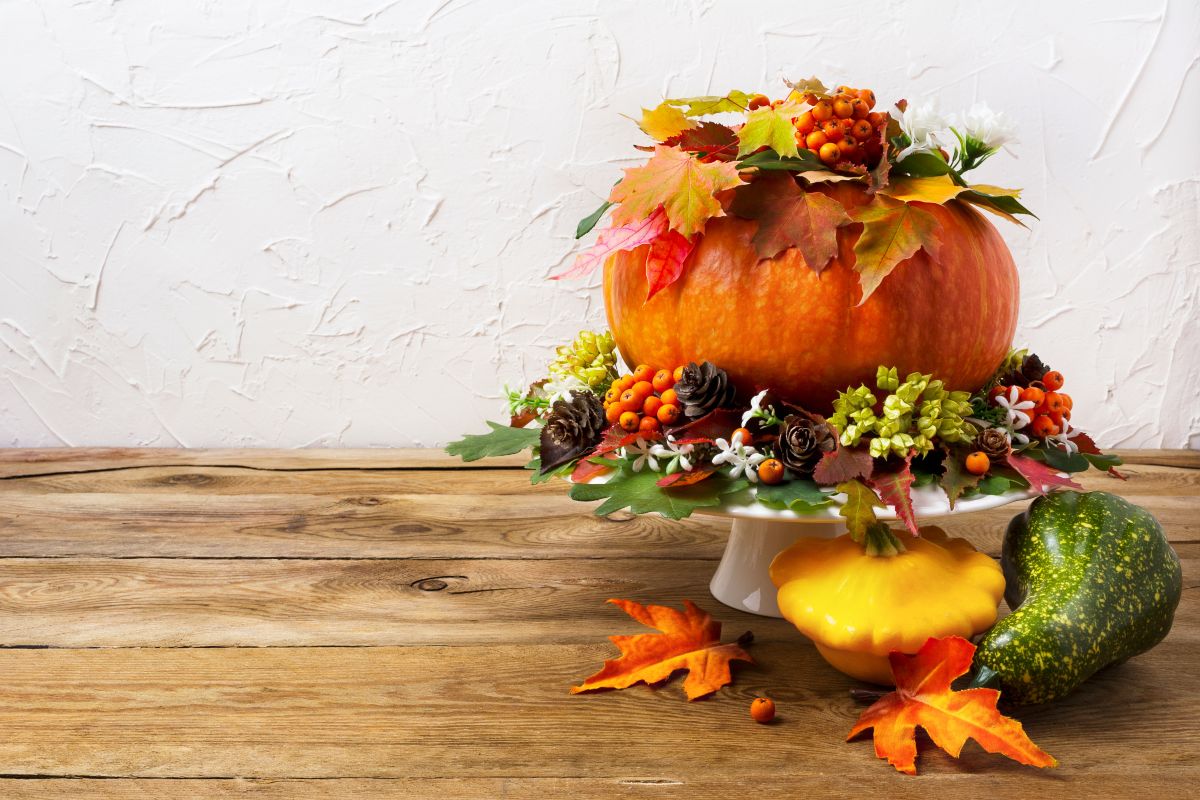 A recent fall trend is hollowing out a pumpkin and using it as a vase to hold flowers, branches of leaves, wheat, and other fall accessories. These "pumpkin vases" make unique centerpieces. You can alternatively use an artificial pumpkin instead, since real pumpkins will rot.
When creating your pumpkin vase, pay attention to the variety of colors you are using in your floral arrangements. Dark green offsets an orange pumpkin well. You may want to limit the orange in your arrangement since it will start to blend in with the pumpkin.
5. Embrace Rustic Style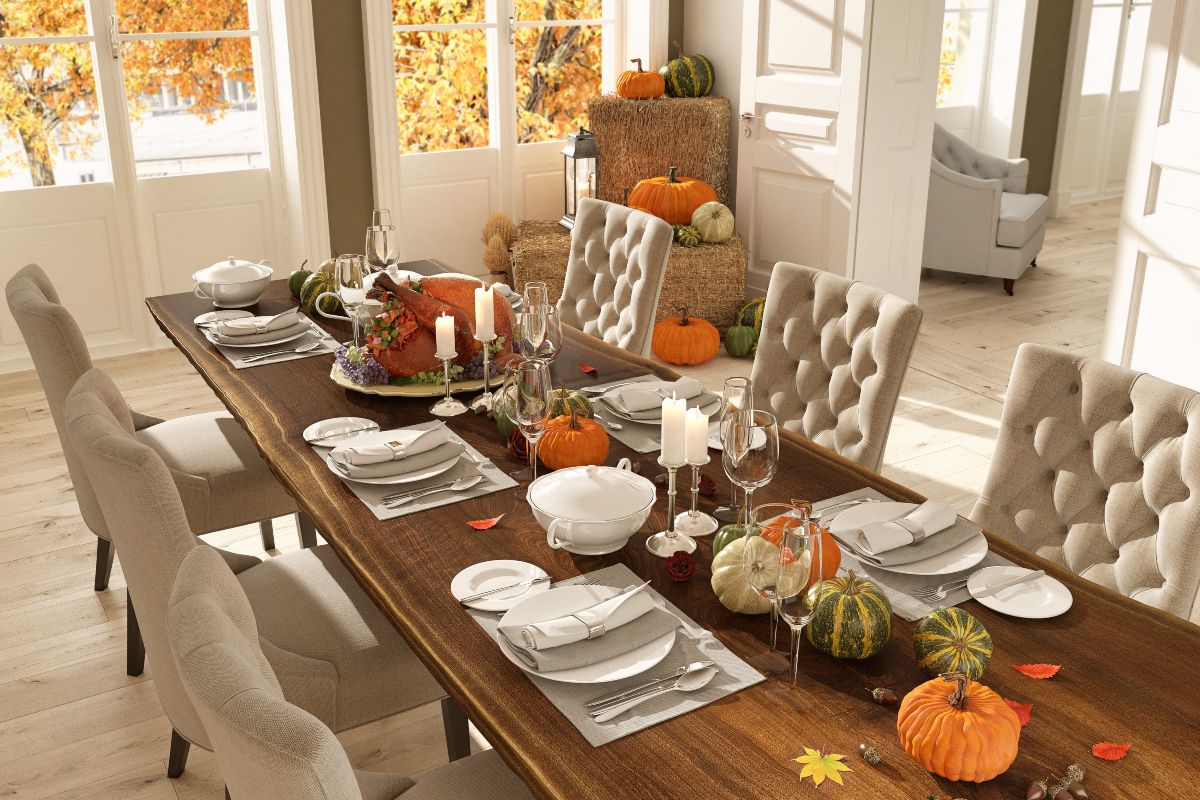 If you want to do something different with your fall decor, consider creating a rustic display. Choose materials like metal, burlap, and wood. Incorporate earth tones like green, brown, dark orange and red for a simple, country-style display. Though it still fits the season, it's a less common decorating scheme. You have a lot of freedom to create your own centerpiece with this style. Here are some ideas to get you started.
Showcase a Live Edge Wood Round
Set a candle, lantern, a vase with flowers, or another tall item on top of a live edge wood round. Round out the centerpiece by scattering smaller items around the tall focal point item, such as leaves or votive candles.
Mix Metal and Burlap
For a bold look that contrasts different textures, start with a burlap table runner. Then place a metal accent on top, such as a galvanized bucket or pitcher. Finish it off with a floral arrangement (real or fake).
Practical and Beautiful Cutting Board Display
Combine function and aesthetic. A gorgeous wooden cutting board stands on its own as a centerpiece, and can also double as a serving tray for parties. Complete the fall look by putting a plain or patterned runner underneath your cutting board and scattering mini pumpkins and gourds around it. Charcuterie boards can be an art form when done right. Be sure to select fall themed foods for extra style!
6. Feature a Cornucopia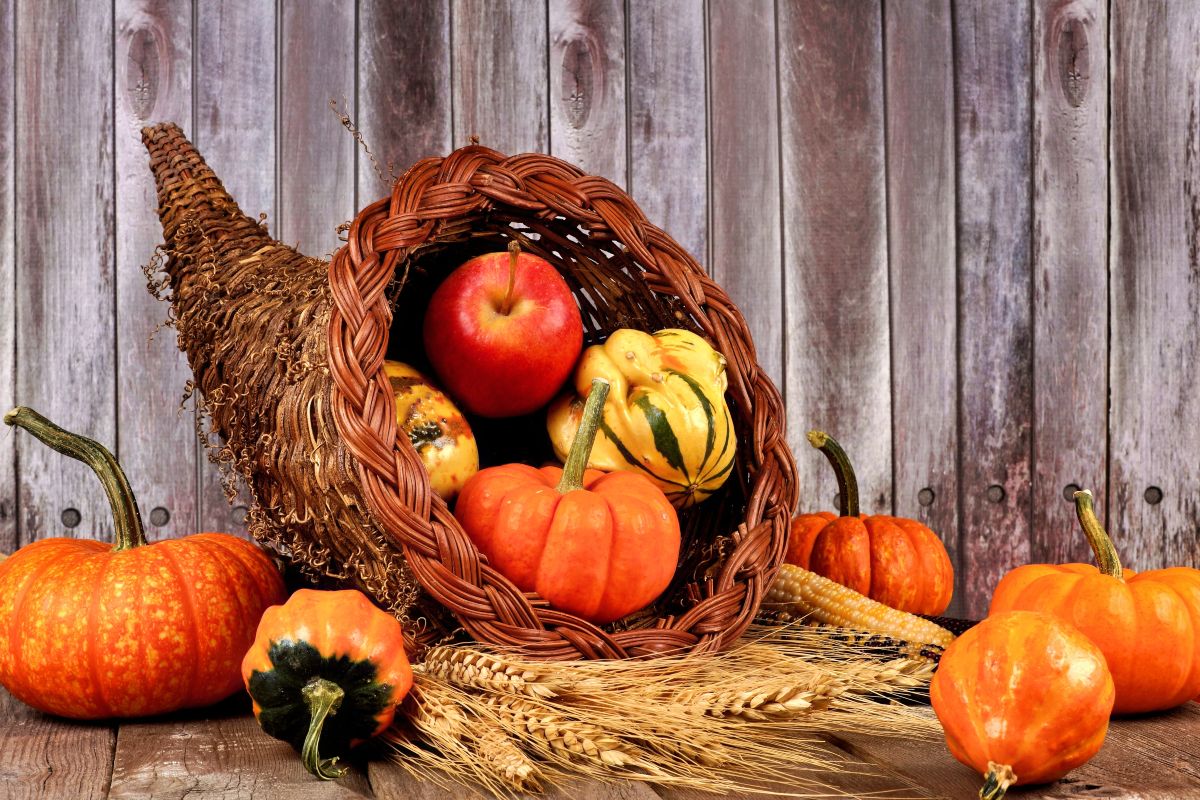 Our next idea for a centerpiece, the cornucopia, is a classic fall and Thanksgiving decoration. It can stand by itself or be a part of a larger centerpiece. You can put a variety of things in it, like faux apples, leaves, mini pumpkins and berries. Though cornucopias are a traditional decoration, you can give them a modern look by using a wire horn or incorporating painted pumpkins.
7. Go for the Gold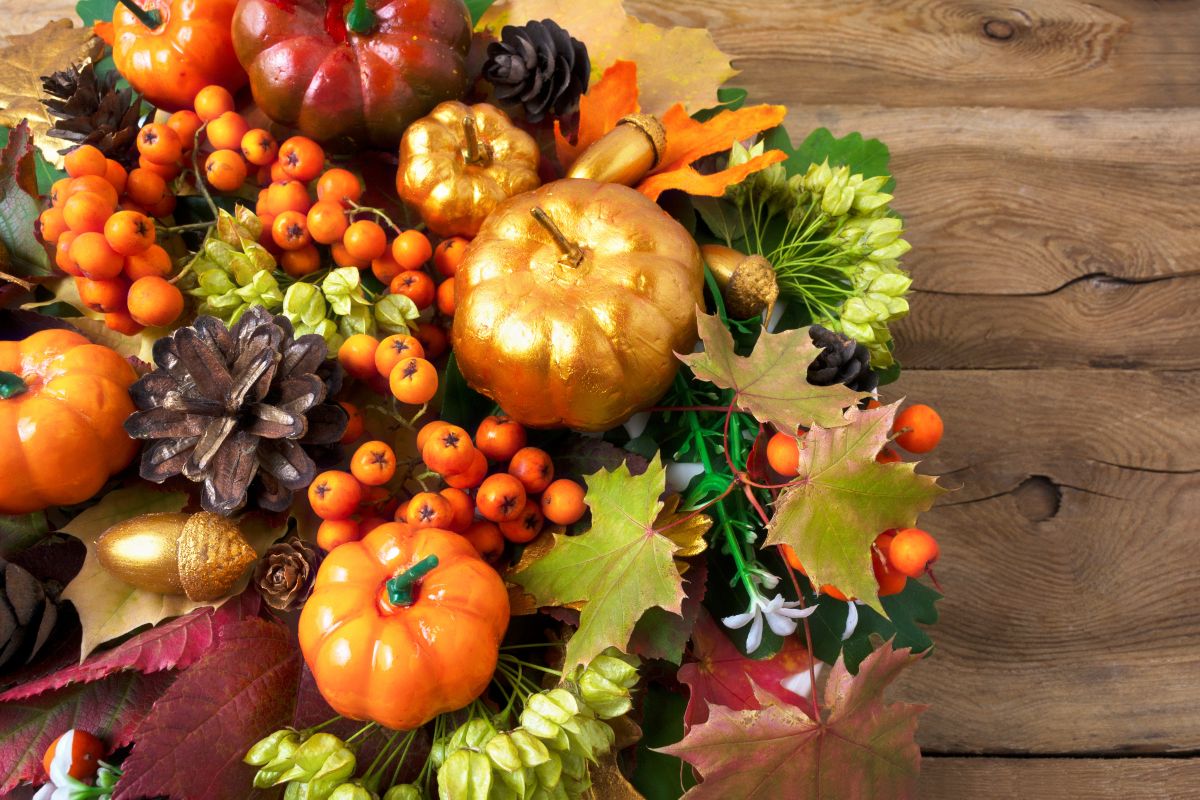 As you decorate, keep in mind that gold is a stunning fall color. Choose autumn decorations with gold accents. For example, gourds, pumpkins, and wheat in metallic shades will beautifully complement other decor.
8. Get Spooky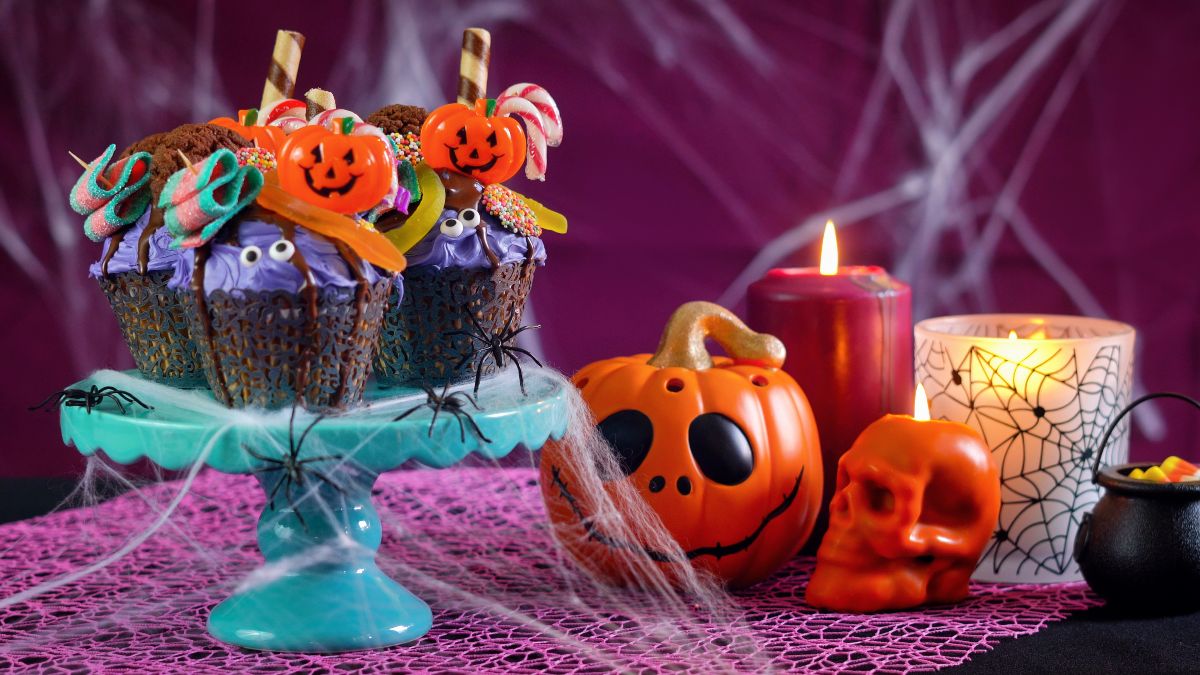 Our last fall decor idea is to use spooky decorations to tie into Halloween. Witches, bats, and ghosts are classic motifs. Use purple and black instead of traditional fall colors. Like the rustic display, this is a great option if you want to try something new, or are a big fan of Halloween.
Upgrade Your Dining Table for Fall
All of these centerpiece ideas will greatly enhance the look of your existing dining table. However, you might be ready to upgrade to a new one. Maybe you're looking for a bigger table, or your current one is worn and scratched. The Hardwood Lumber Company has beautiful live edge and butcher block tables. Whether you want the timeless beauty of wood or you're creating a rustic look in your home, we have furniture to match your lifestyle. Check out our selection today!