Posted by The Hardwood Lumber Company on Jul 1st 2021
It's 2023! We've all been through a challenging three years but life is getting back to normal. That means those of us who love home cooking dates, dinner parties, and supper clubs are looking to host friends and family again.
Whether you're updating your kitchen or just love interior design, we hope our team's top 2023 kitchen design trends inspire you!
1. Create A Natural Look With Wood Accents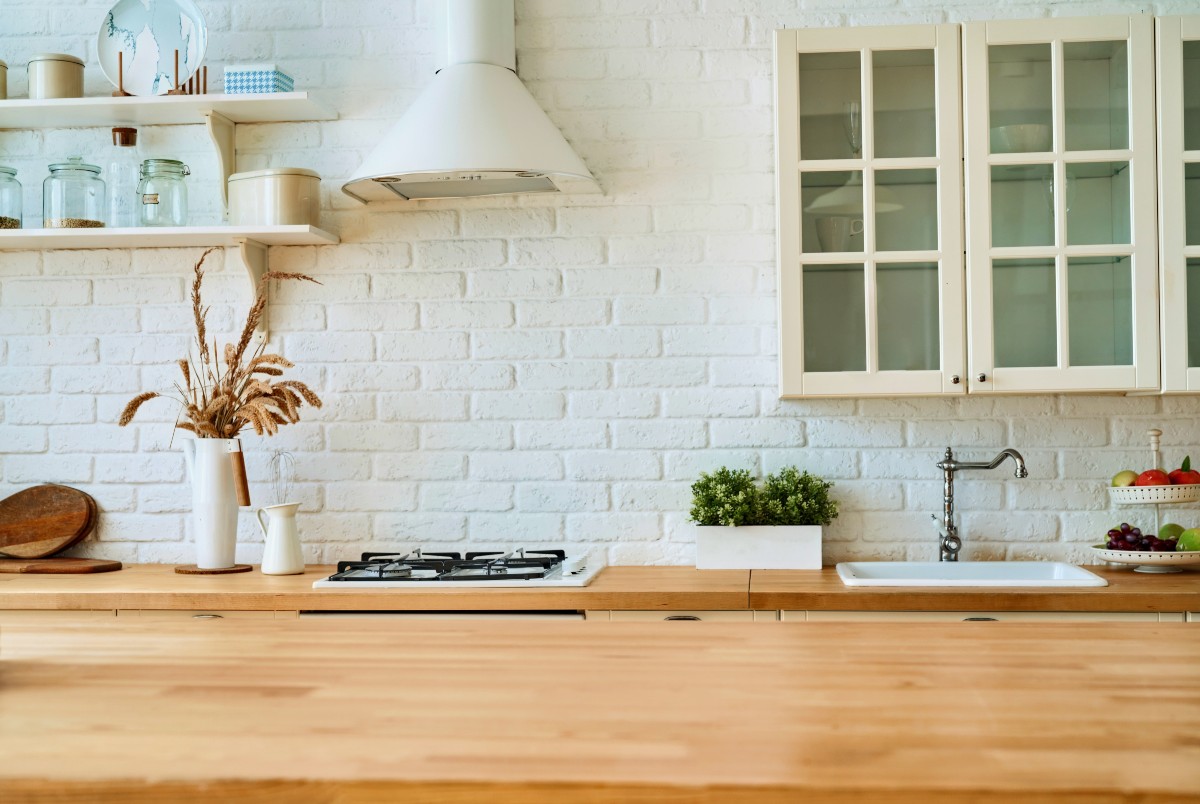 The look and feel of natural wood is timeless. There are a variety of ways that you can update a kitchen with wood: from major remodels to simple DIY projects.
Consider using wood accents in your kitchen. Simple wooden accents will match any style of kitchen. Butcher block countertops offer a timeless look.
With a variety of wood species, texture, and finish options, wood is an excellent choice to complement any look. New wood countertops also help boost home value. On the other hand, a live edge countertop creates a rustic style.
Time to update the kitchen counters? Let us add beautiful, long lasting wood to your home. Tell us what you need and our wood workers will craft it to perfection!
Find The Perfect Butcher Block Countertop
2. Add Extra Storage With Floating Wood Shelves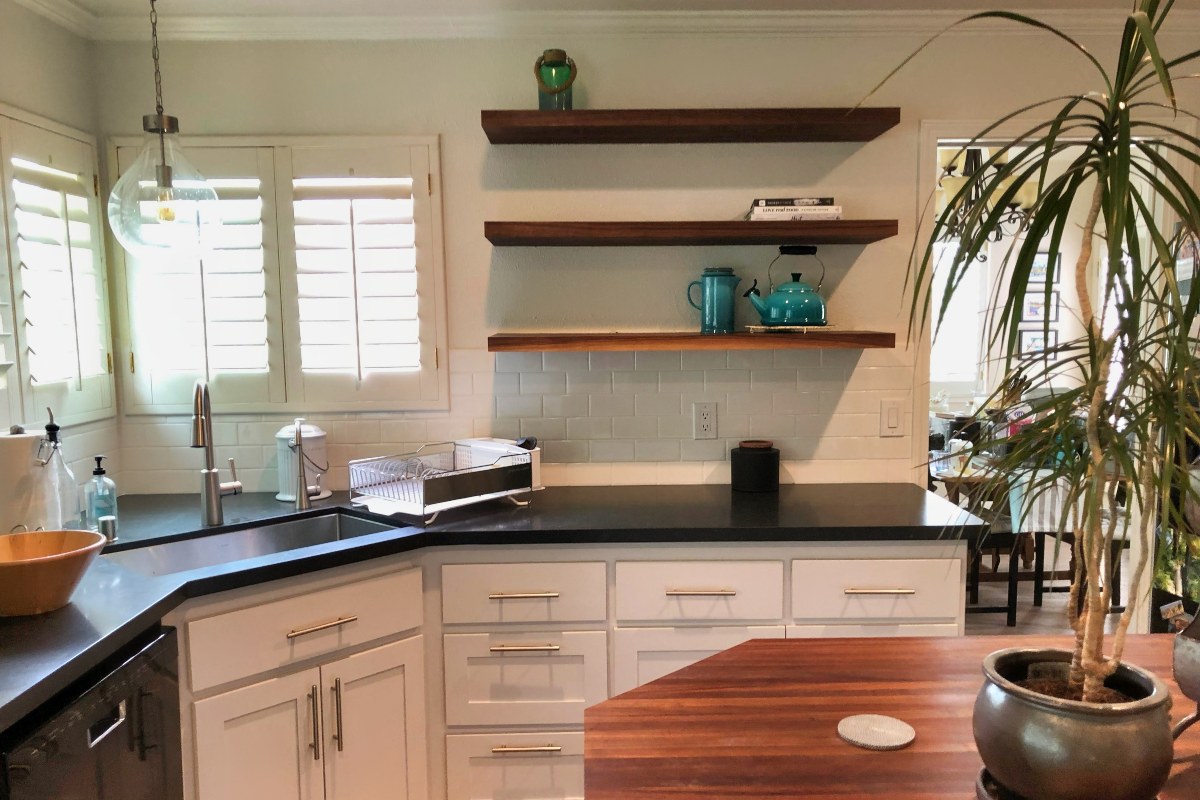 Cabinets don't always offer all of the space you need and, let's be honest, can sometimes be a little dark and cramped. Let's open up those kitchen storage spaces with some shelves!
Floating shelves can help you utilize more space in your kitchen. Floating shelves are a unique way to convert unused, boring wall space into something that is both practical and eye-catching.
Like wood countertops, shelves are available in a variety of wood species options: From red cherry to dark acacia to light ash, there is wood for any look!
Need more kitchen storage? Doesn't everyone? Let the Hardwood Lumber Company team craft floating space that will open up your kitchen!
Shop Hardwood Lumber's Floating Shelves
3. Add A Fresh Coat Of Paint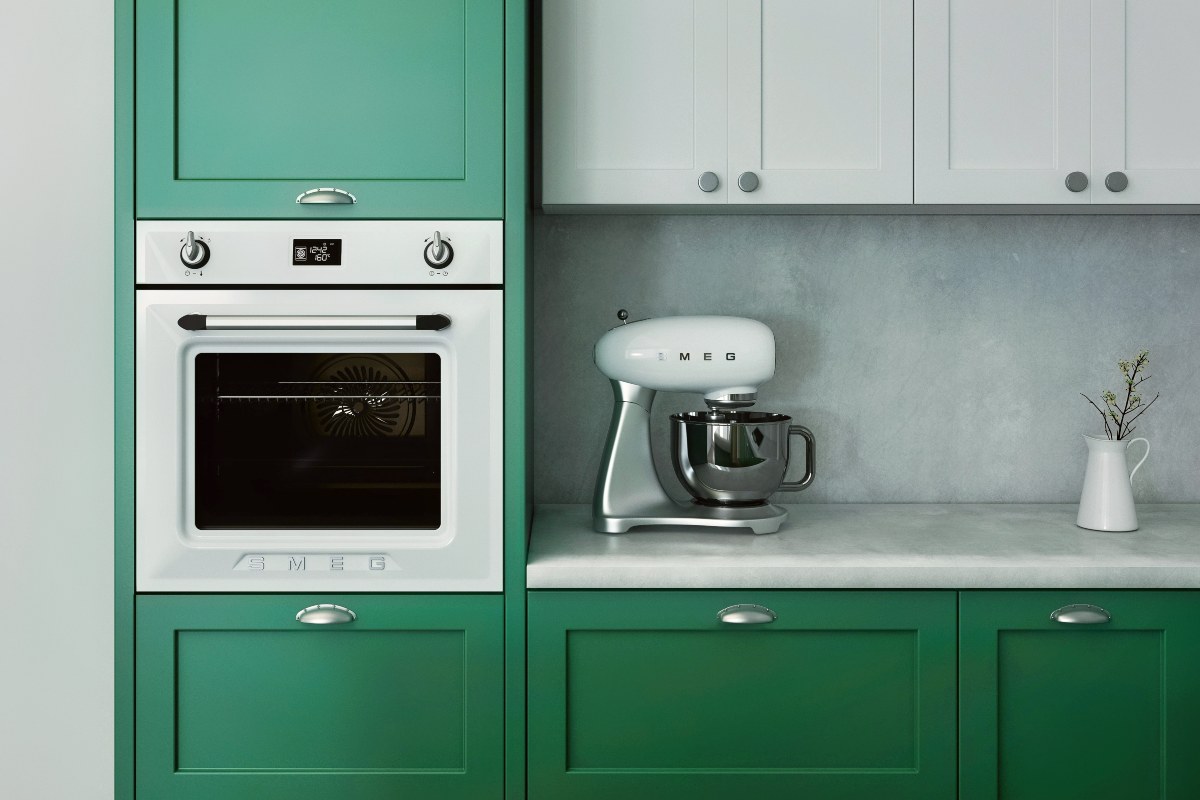 We love wood. It's kind of our thing. But for decades wood grain cabinets were the kitchen staple. Fortunately, the 2020s have been all about adding some color!
A simple new coat of paint can go a long way. Consider painting those wood cabinets for a brand new look that you can pull off in a weekend.
There's only one rule: have fun but don't go too wild. Express yourself with vibrant colors but pick ones that play well with other colors. Here are some ideas:
Yellow is bright, cheerful, and can make a dark kitchen instantly bright! It goes well with wood, like gorgeous butcher block (shameless product plug, but it's true!), white, and even kitchen adorned with house plants of all varieties!
Green comes in so many shades, from darker forest tones to lovely light mints. Almost all of them work well with stainless steel, stone, wood, or any other countertop you have (or plan to add later). Plus cottagecore is so in this year!
Blue makes a subtle impression, especially if you can paint a kitchen island base to match the cabinets. And nothing screams farmhouse chic louder than a soft, dark blue with natural wood countertops and table tops.
Include An Extra Pop With Kitchen Appliances
Color is in! So that means all of your favorite appliances are available in a variety of fun colors. Don't be afraid to buy those daisy yellow mixer or that shiny blue blender. Colorful appliances are a great way to add some more pop into a drab kitchen. Just be sure to use them!
4. Mix It Up With Different Textures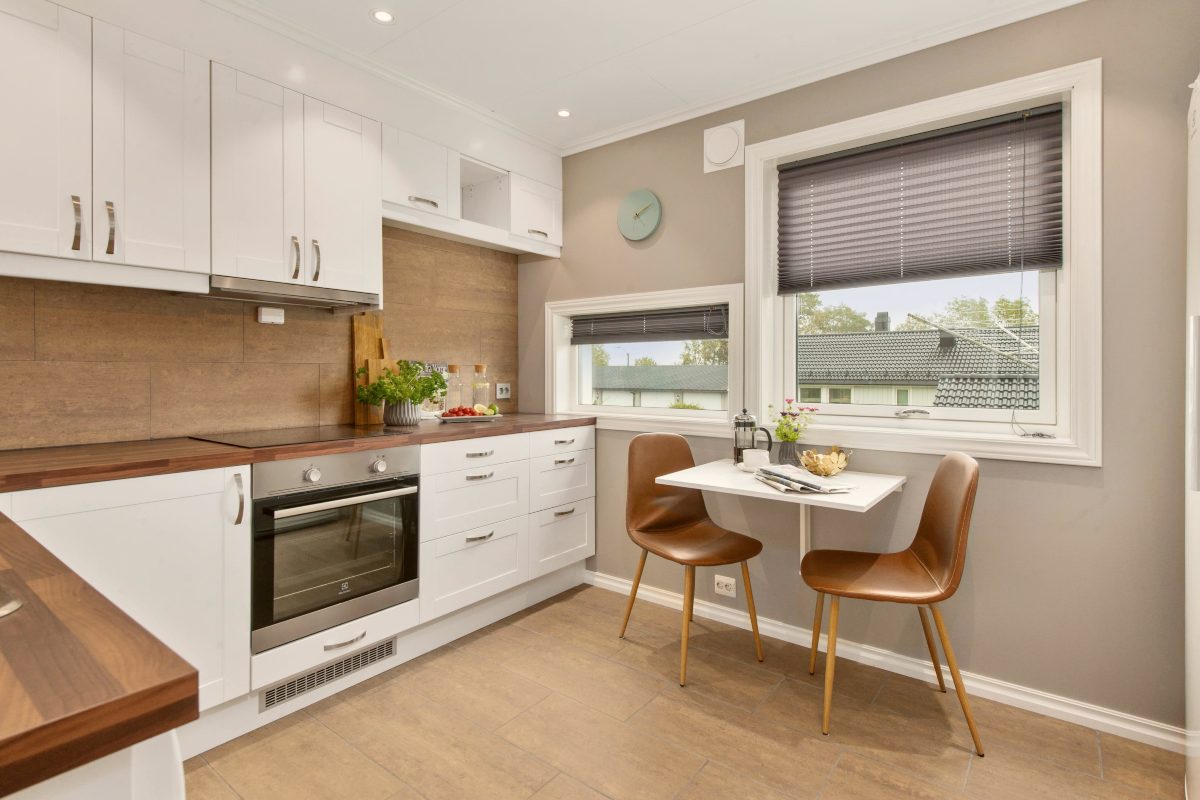 We know "adding texture to your kitchen" sounds funny (and complicated) but it's actually simple. Here's an example of how it works:
Let's imagine you have wood cabinets, a laminate countertop, and vinyl floors. What you also have are three smooth surfaces that feel the same and play with light the same.
Here's how you can switch it up: paint the countertops with a matte or chalk paint, add some rougher stone countertops, put up a tile backsplash, and keep the vinyl floors. Now you have a variety of textures that create contrast from one level of the kitchen to the next.
5. Don't Forget The Hardware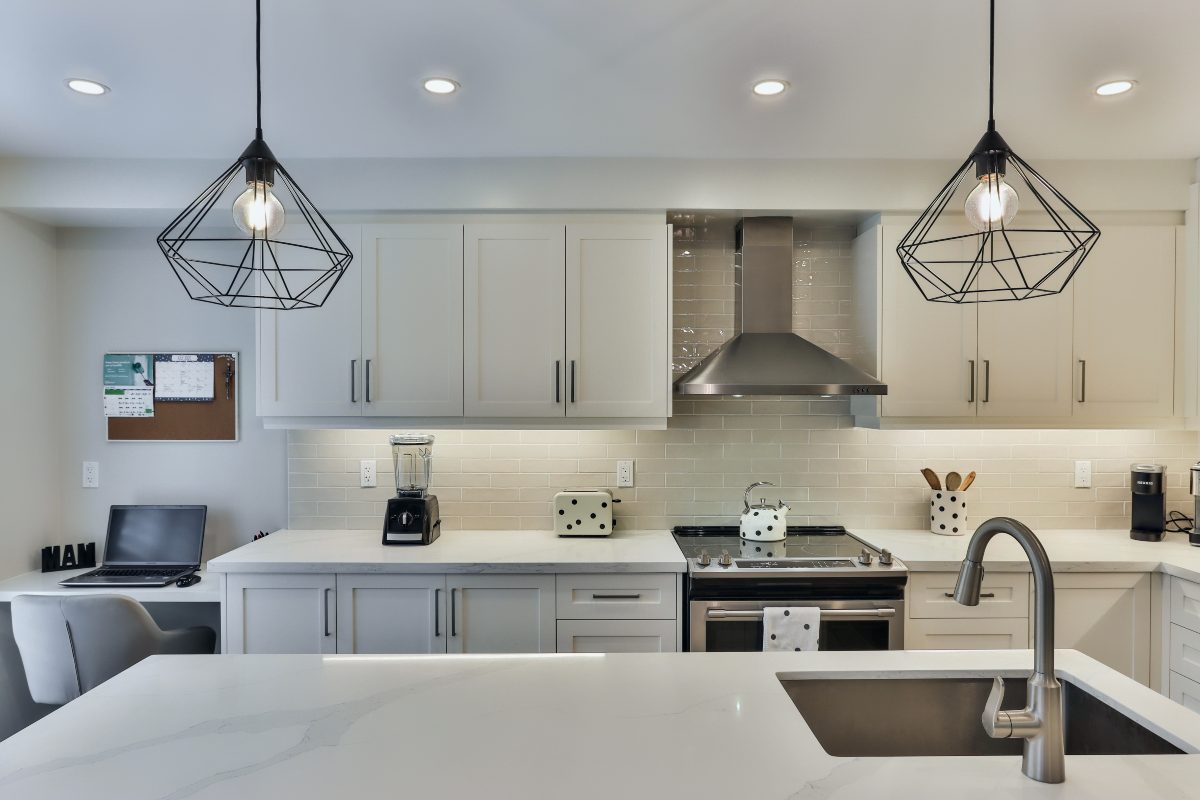 There are many fixtures, both large and small, all around the kitchen.
You can update everything from light fixtures and faucets to outlet covers. Chandeliers and other large lights add elegance to the kitchen. Switching up your faucets is another great way to update your kitchen. New fixtures are a practical way to give your kitchen a new look.
Always consider colors, accents, and complements. You can easily pair new fixtures with an updated paint job. While simple, this is a great way to create a totally new look!
6. Metallic Additions Can Make A Huge Difference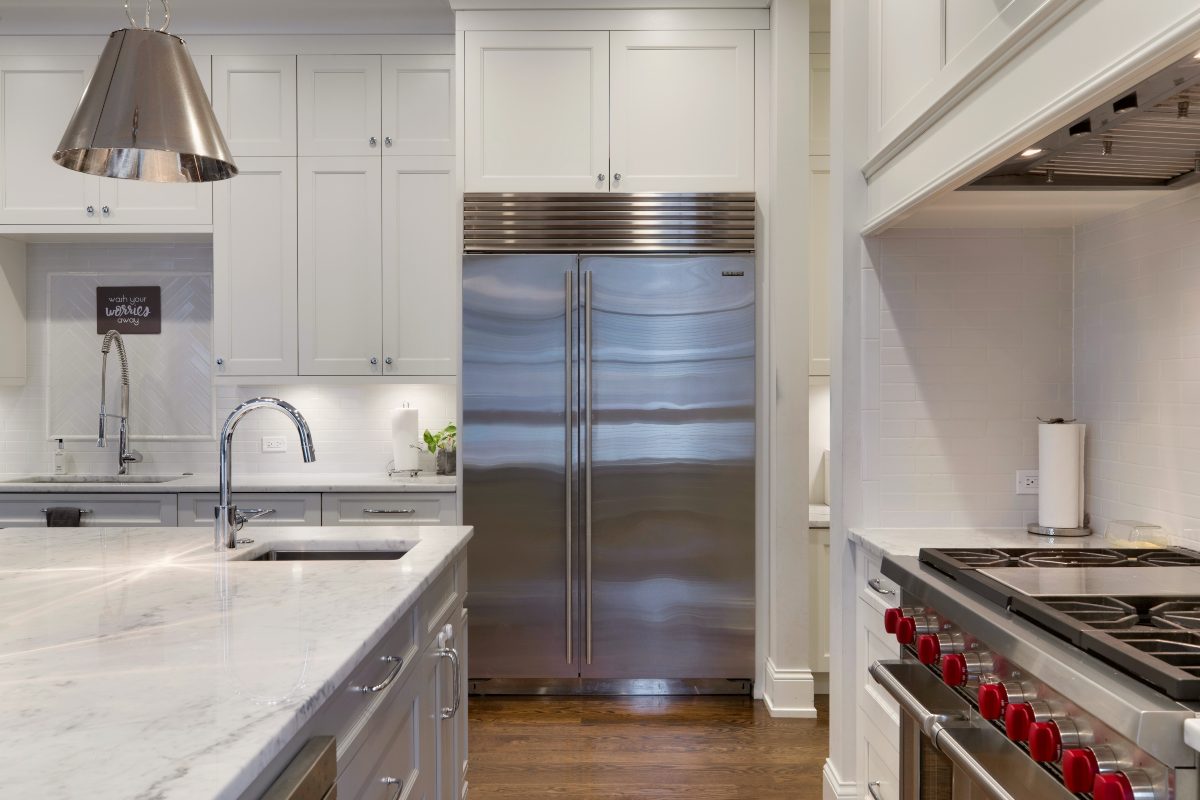 Metal can be used to make a kitchen look modern and sleek. From stainless steel appliances to sinks, faucets, and other fixtures, there are many ways to incorporate metallic textures throughout your kitchen.
And lets not forget those other lovely metals! You can even consider a gold, brass, and copper for an elegant and inviting look.
7. Make A Statement With Backsplash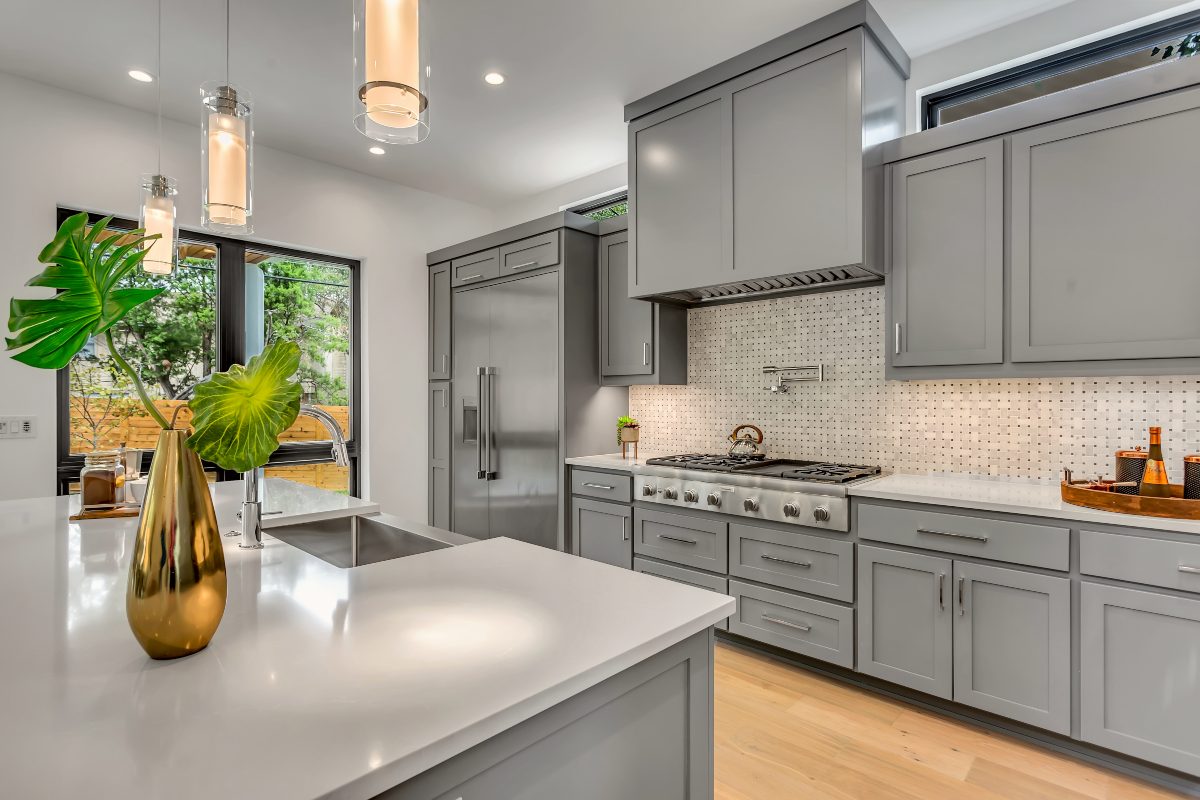 Backsplash adds color, texture and personality, and is a fun, easy way to decorate your kitchen.
A backsplash can be added directly behind your sink, or it can stretch around the entire countertop perimeter. If your countertops span multiple walls, you can even add backsplash to just one wall for a unique accent.
With so many options, a new backsplash can fit almost any budget!
Update Your Kitchen With The Hardwood Lumber Company
If 2023 is the year to update your kitchen The Hardwood Lumber Company is here to help!
From custom butcher block countertops to beautiful hardwood floating shelves, you'll find wood products to create a truly one-of-a-kind kitchen in your home. Shop our selection of woodwork today or contact us online for a custom project quote!