Posted by Hardwood Lumber Company on Jul 27th 2020
Live edge furniture, countertops, and tabletops offer a strikingly beautiful, natural look to your home. Every piece of live edge wood is unique and brimming with personality. The rustic charm and warm mixture of shades serve as a contribution to a very cozy, laid back home atmosphere.
If you're an owner of a live edge piece, whether it's a live edge slab countertop in your kitchen or a smaller live edge end table in your living room, it's important that you take proper care of the wood. Cleaning and caring for live edge is similar to that of any wood countertop, but there are a few major differences to consider, as well.
Overall, proper care of live edge will depend on the type of finish and even the type of wood. Fortunately, maintaining live edge wood pieces isn't much of a headache since it is easy to keep in optimal shape.
Keep reading to learn our top four tips for keeping your live edge wood furniture clean, polished, and safe!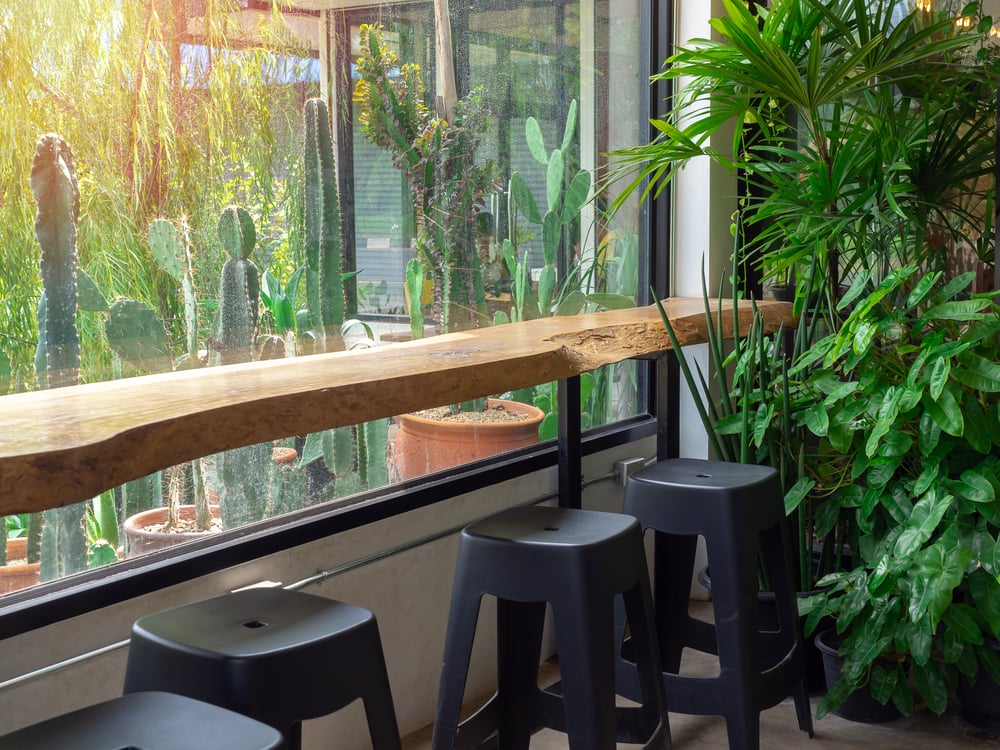 1. Keep your live edge water and stain proof
The last thing that you want is unattractive stains or water spots scattered on the surface of your live edge wood pieces. One of the easiest ways to reduce water stains is to prevent them in the first place. Be sure to always set drinks on coasters and immediately wipe up any accidental spills. It's also important to make sure your live edge wood has been properly sealed. At Hardwood Lumber Company, we carefully seal our live edge wood pieces and take precautionary steps with a crisp coat that serves as a protective boundary against stains.
Additionally, be sure to keep your live edge safe from the elements - especially too much direct sun. The enemies of wood include sunlight, heat, and humidity. Too much sun can overheat the wood and cause some of the natural color to fade. If the wood is stained, direct sunlight can diminish its finish.
Finally, keep your wood safe from sharp or abrasive objects when possible. Be extra aware because severe abrasions could happen. Remember, it's wood, it can be chopped!
2. Dust with microfiber towels
Microfiber towels are plush, not rough as other kinds of towels tend to be. They're also extra absorbent, meaning you can remove moisture or polish a wood surface with less pressure or movement.
This makes microfiber towels a perfect complement to the rocky, rugged, and jagged edges of live wood. The towel fibers nicely sweep up and hold each little fleck of dust that can sprinkle itself over the surface and inside the smaller nooks and crannies of bark. Always be sure to use a fresh, clean cloth. You don't want to dust or wipe down live edge furniture with a towel that will spread any nitty gritty dirt or debris.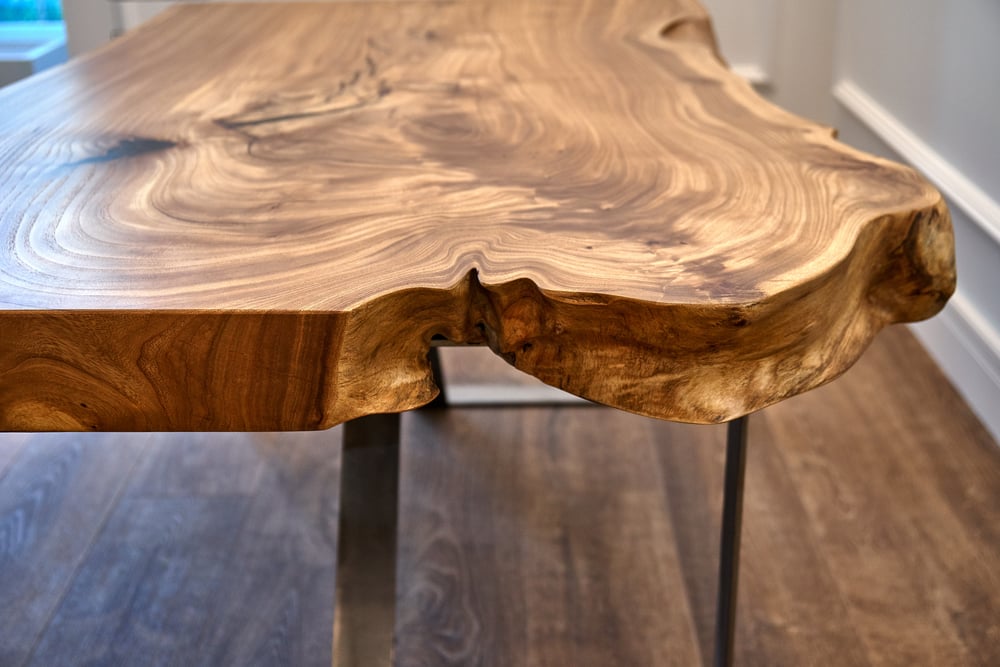 3. Use natural cleaning products for a natural wood piece.
Using natural cleaning products on natural wood seems to go together quite well, right? It makes a lot of sense to clean live edge pieces with natural products. There are several natural cleaning options available, but one of our favorite suggestions is to use vinegar.
Vinegar is naturally antibacterial and will help dissolve surface buildup, including whatever may be more deeply embedded into the wood or crannies of the bark. If you do use vinegar, make sure to mix it with warm water to make a diluted solution. This helps lessen the strong scent of vinegar.
To clean the wood, simply:
Dip a microfiber towel into a bucket or container of equal parts vinegar and water
Wring the towel out so that it is damp, but not dripping wet
Gently wipe down the surface of the live edge 2-3 times
Use your finger to press the microfiber towel deeper into any crannies in the wood
When finished, wipe the surface again with a clean, dry microfiber cloth
Finally, buff and polish the surface with dry shammy
Avoid using harsh chemicals on live edge wood products. These can potentially tarnish the finish or even discolor natural wood.
4. Polish live edge wood with a conditioning cream
Upon receiving your live edge piece, it's wise to condition the surface frequently. Polishing will reduce minor scratches and seal them becoming unnoticeable. As time goes on, you won't have to condition it as often.
After applying a conditioning cream, be sure to carefully buff out any excess. This will expose a sparkling surface. With any excess cream or polish though, be careful not to let any of the substance leak into the ridges, cracks and holes of the live edge surface. Live edge can allow substances to fill any natural gaps or crevices in the wood. Over time, this buildup can cause the live edge to look gunky or dirty.
The goal of taking care of live edge pieces is using preventative measures and sticking with a maintenance schedule to keep them looking like new.
Find The Perfect Live Edge Piece For Your Home
Are you looking for the perfect live edge furniture piece of countertop for your home? Do you already own live edge and want to add another piece? Hardwood Lumber Company creates beautifully handcrafted live edge slabs, rounds, and cutting boards perfect for use in any room in your home. Click below to shop our full online collection of live edge wood pieces and submit a custom order!