Posted by The Hardwood Lumber Company on Aug 16th 2021
Savvy homeowners look for ways to update their homes without breaking the bank. Open shelving, which is shelving that is not inside of a cabinet, offers a number of benefits:
It's easy to install in any type of area
Creates organization and storage versatile options
It's ideal for small home improvement projects
Open shelf designs are most often used in the kitchen because they make it easy to see where everything in your kitchen is stored. You can use open shelves to store or display items like dishes or glassware. They're even a great option for storing commonly used ingredients, like spices, or appliances and utensils.
One of the best benefits of open shelves is they come in many styles that fit most spaces. Let's explore five simple ways to design your kitchen with open shelves.
Fill Open Wall Space With Floating Shelves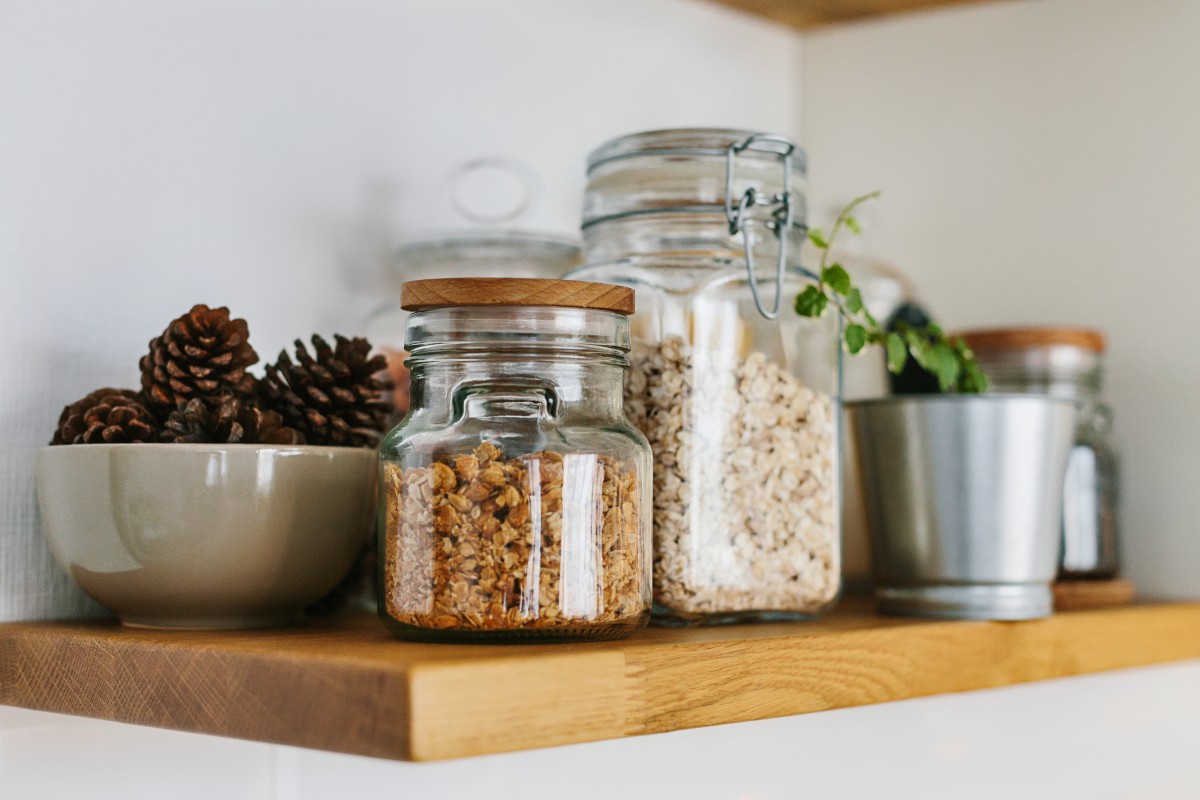 If your kitchen has a lot of available wall space, then floating shelves are an excellent design choice!
Floating shelves are anchored into wall studs for support. Typically, there is little to no visible support, although some floating shelves may use minimalist brackets. This type of shelving offers a unique look while also providing space-efficient storage. Floating shelves are also a popular option because they are easy to fit into tight spaces since they use very little mounting hardware.
There are many ways you can use floating shelves. For example, multiple shelves can be used to span an entire wall. Alternatively, one or two longer floating shelves can be installed above kitchen counters, providing additional space with minimal impact.
Searching for the perfect floating shelves for your kitchen or home? Shop The Hardwood Lumber Company's floating shelf collection, handcrafted from a variety of wood species.
Create Unique Looks With Complementary Materials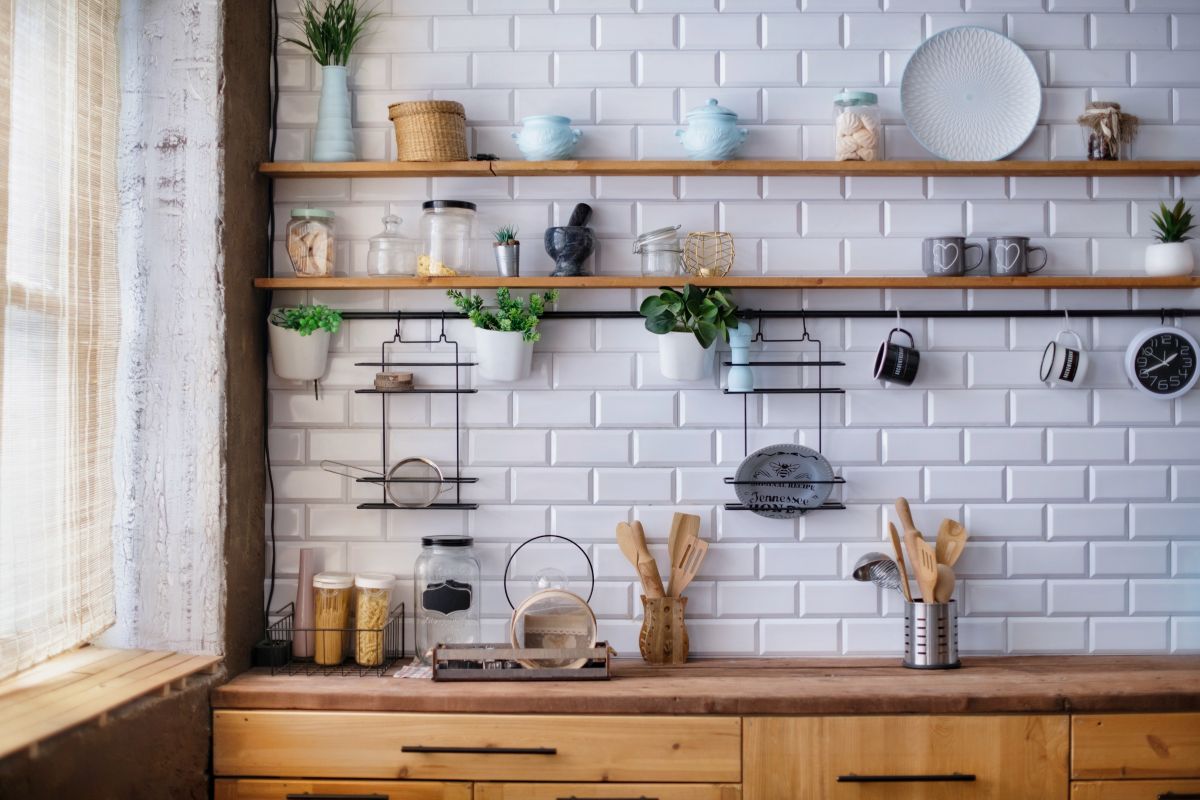 When designing the look for your kitchen, be aware that they are available in a range of materials. It's important to select the right materials to complement your kitchen.
Glass shelves are ideal for a sleek, modern minimalist design. Conversely, you can create an industrial design using metal shelves, like stainless steel. Other options, like butcher block and live edge slabs, add natural warmth to a farmhouse kitchen.
Whatever material you decide for your kitchen shelves, find ways to complement them with other materials. For example, glass often makes a great complement to lightly colored granite and marble shelves. Meanwhile, wood shelves can help enhance wooden countertops, doubling down on a natural design that incorporates earth tones and warm hues.
Take Advantage Of Corner Space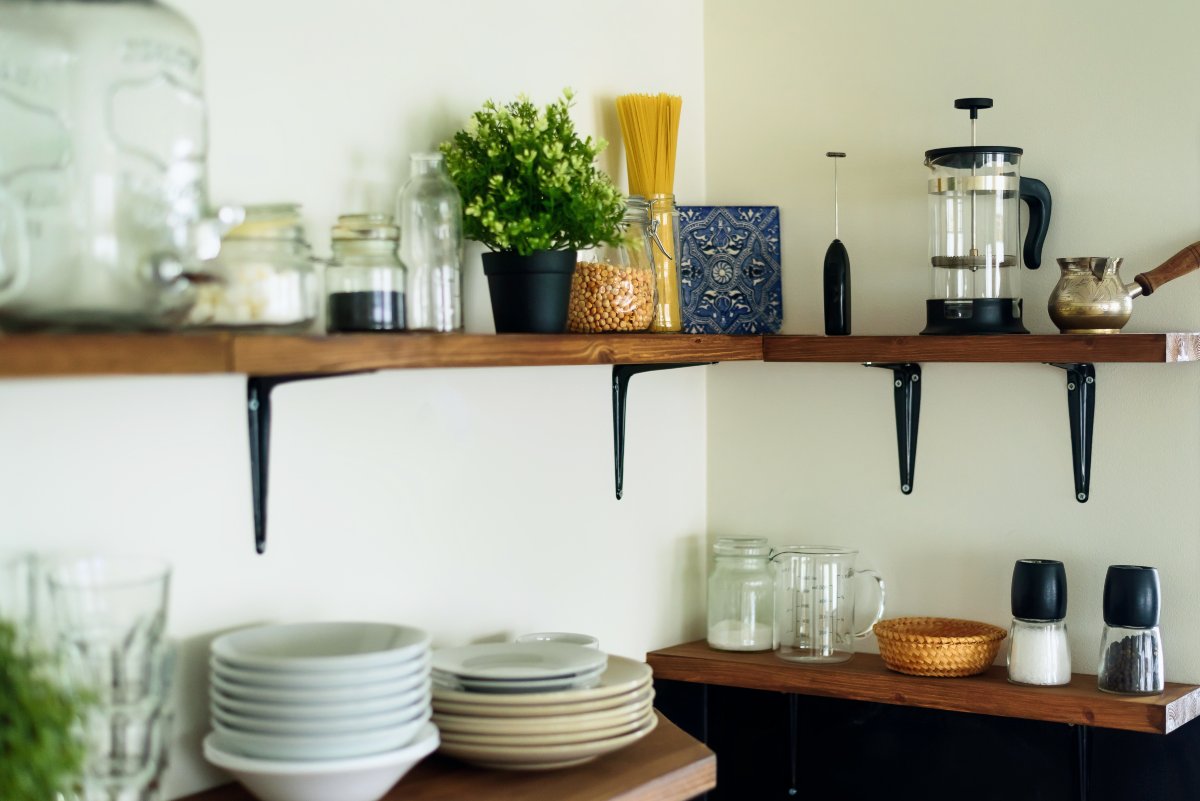 Open shelving can help you make the most of your kitchen space. Corners often go neglected, serving as a spot to wedge in a countertop microwave or other appliance. But you can easily install custom cut shelves into the corners of your kitchen for additional storage.
Depending on the space available extending away from the corner, you may have multiple options for shelving sizes. While corner shelving is most often used as a decorative space in other rooms, in the kitchen this space can be practical. Dishes, glassware, and other items can be stacked on corner shelves within easy reach of the sink or dishwasher, depending on the layout of your kitchen.
Don't Forget The Space Above Your Sink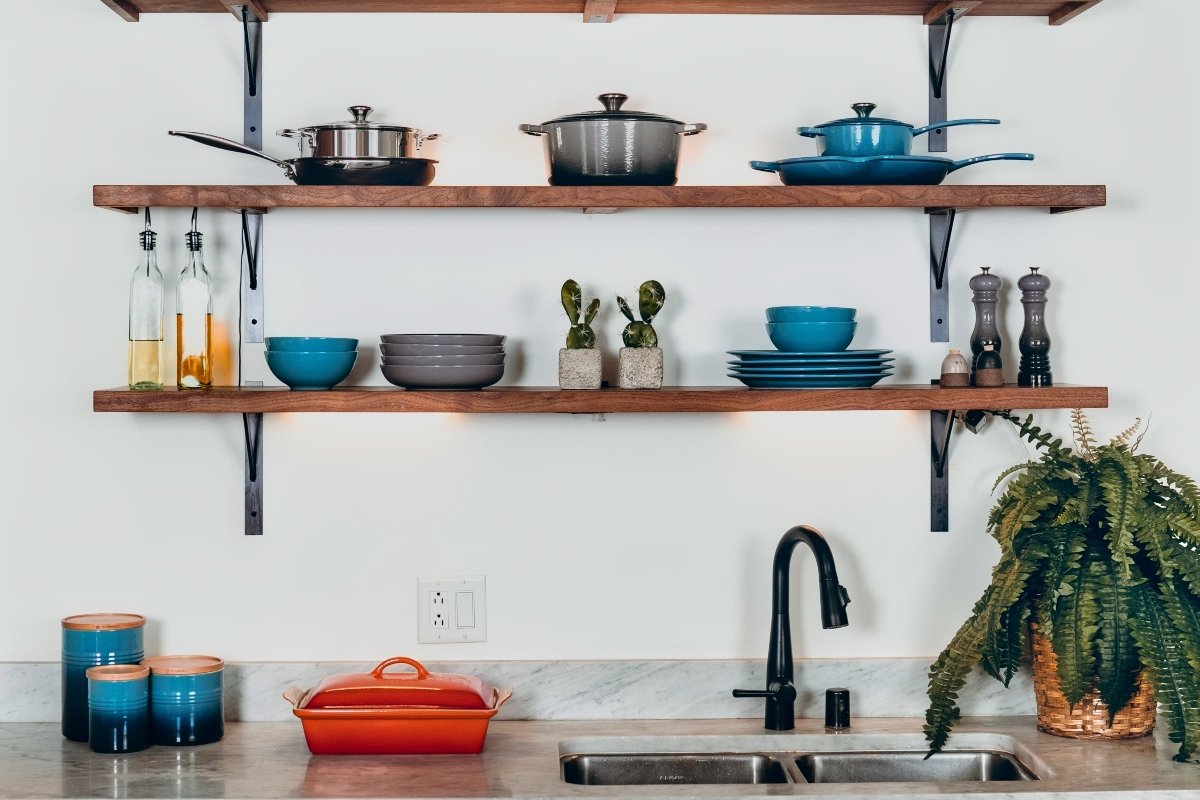 In some kitchens, there is unused wall space directly above the sink, most often between cabinets. Install a shelf there for storage or decor.
If your kitchen is smaller, a shelf above the sink gives you some extra (and much needed) storage space. This is also another opportunity to create a unique complementary look: select a shelf that complements your backsplash to add contrast and depth!
Maximize Storage With Hooks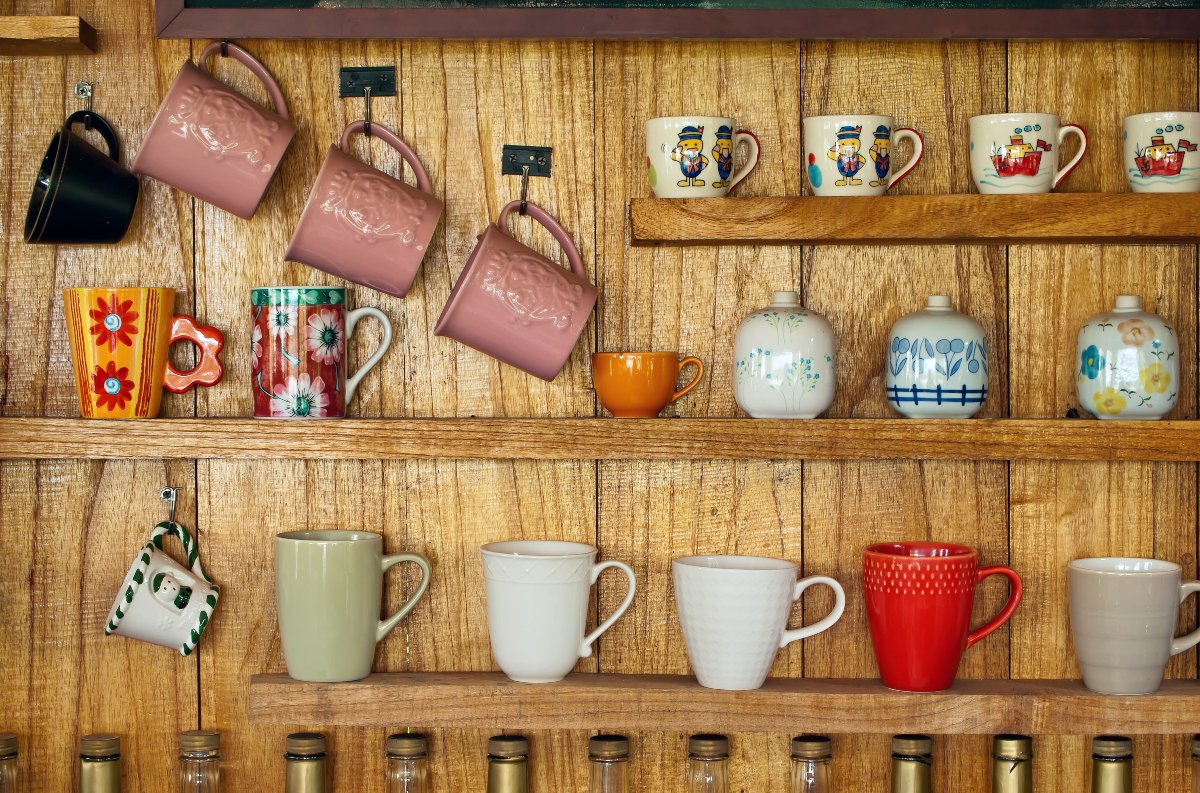 If extra space is a top priority for your kitchen, adding hooks to the bottom of floating shelves can almost double their storage potential. You can hang mugs, pots, pans, and other cooking utensils from the hooks and store larger items on the shelf.
Hooks will maximize vertical space in your kitchen without forcing you to store items where they are hard to reach or see. However, be mindful of the weight limitations of your shelves. Always check with the shelving manufacturer or refer to the included installation instructions for weight capacities. Unbracketed floating shelves typically have a weight capacity ranging between 25lbs to 35lbs.
Make A Subtle Statement With Recessed Shelving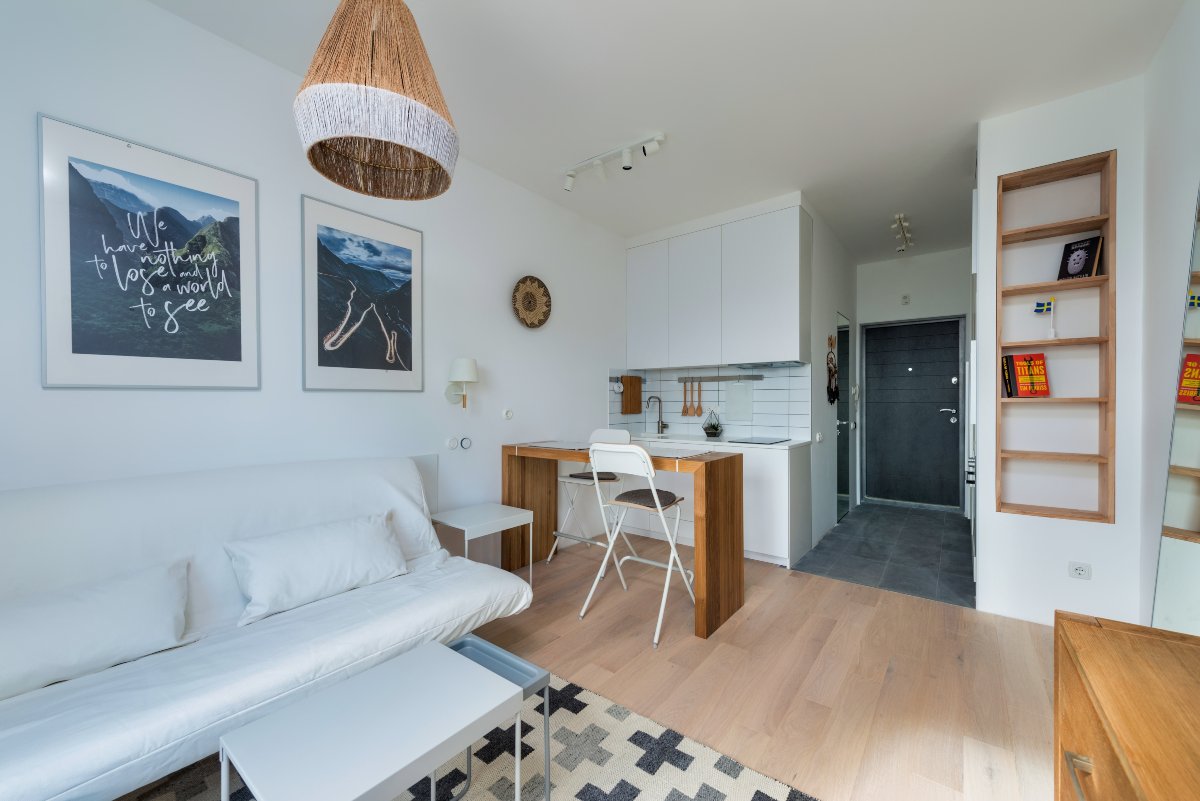 Our final open shelf design is a recessed shelf. Built into the wall, these shelves are perfect for tight spaces like above the fridge or in the dining room. They have all the benefits of the other shelves we have mentioned, but they do not take away space from the room. Recessed shelves are a great option to help you maximize your space and stay organized. However, installing recessed shelving requires extra work, so keep that in mind when planning your project.
Find The Right Shelving At Hardwood Lumber
Whether you're planning a complete remodeling of your kitchen or simply want to add some extra storage, open shelves are a great option. The Hardwood Lumber Company mills custom woodwork right here at our Ohio facilities. Our craftsmen can create one of a kind hardwood floating shelves, butcher block countertops, and more.
Start your kitchen project off right. Shop our collection of floating wood shelves to find the perfect look! You can also contact us with questions or custom orders.