Posted by The Hardwood Lumber Company on Sep 10th 2020
Every staircase has many single stairs, and within each there is a stair tread and a stair riser. Add it all up, and there are many pieces and parts that make up a staircase. If you've been considering a staircase remodel, it's probably intimidating to think of all of the stair parts you'll need - not to mention disassembling and then reassembling the staircase. Fortunately, there are simple stair renovation options for homeowners.
Here at the Hardwood Lumber Company, we want to make home remodeling projects easy. In order to keep a stair remodel simple, we offer not only stair parts for those customers building brand new houses or entire staircases, but what are known as "retrofit" stair parts, as well. Retrofit stair parts serve to cover the stair tread and the stair riser with minimal labor.
Continue reading to learn more about retrofit stair treads and risers, and if they're the best option for your home.
How Are Retrofit Stair Parts Used?
Retrofit treads and risers are often a relief to those homeowners who dread of completely renovating a staircase. With retrofit parts, there's no need to remove entire steps. Retrofit parts are measured to fit over your existing staircase, making a DIY project or professional installation much simpler.
Generally, retro-fitting stair treads is the simplest solution for the DIY homeowner looking to update their staircase. This is especially true for homeowners who simply want to remove carpet from their stairs, but don't want to completely renovate. In this case, retrofit treads and risers are measured to replace the current stairs. After removing carpet, it's a simple process of installing the replacement treads over the current ones.
There are also many additional benefits to investing in retrofit stair treads: they are cost saving, time saving, and the ease of installation is much less labor intensive.
The Benefits of Retrofit Stairs
In order to save of money and time, retrofit is the way to go. Retro-fitting your stairs can help to lower costs of a remodeling project. With retrofit parts, there is no need to remove and disassemble the old stair parts and then fit new ones perfectly back into the right place.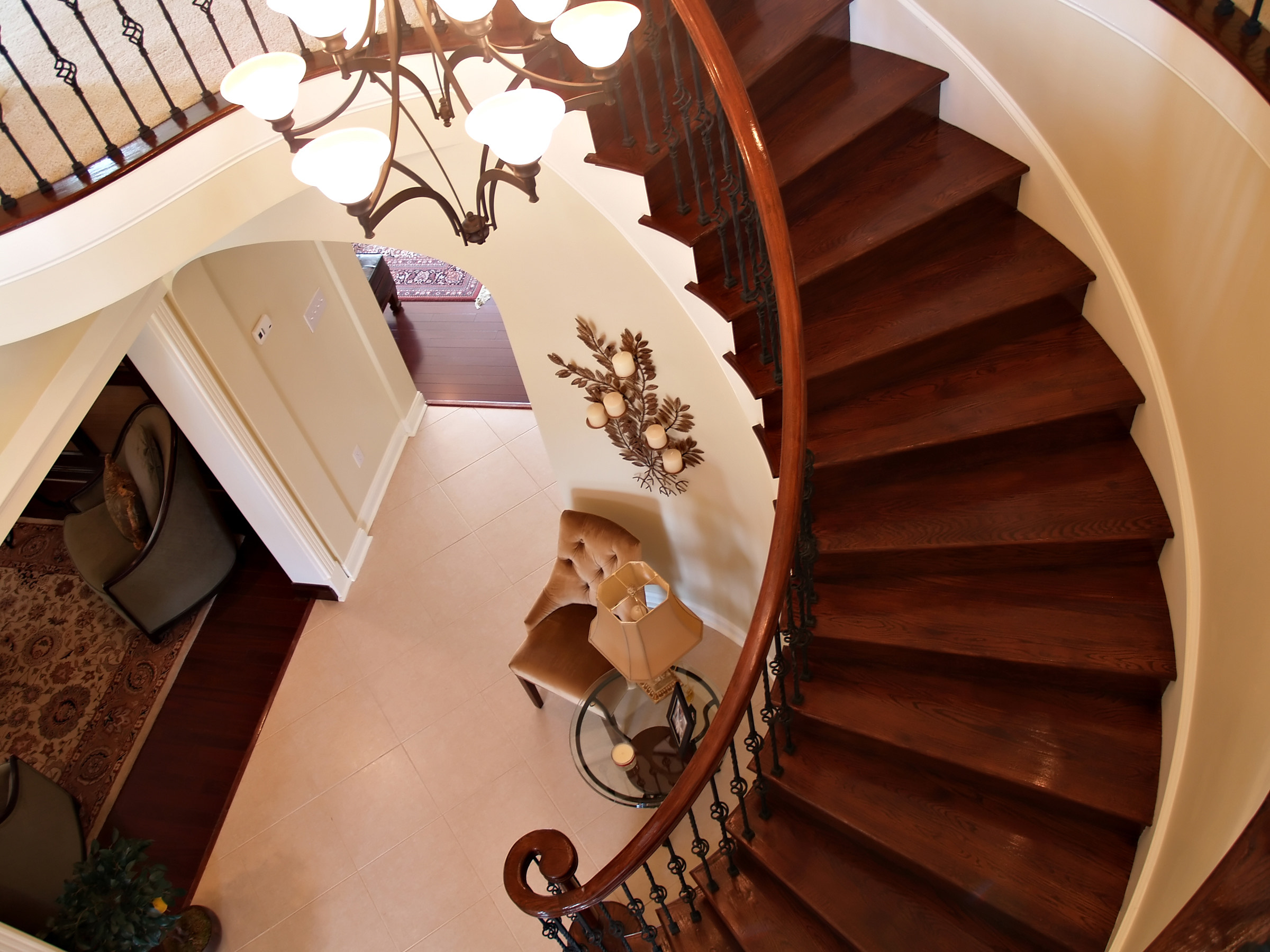 In addition, going the retrofit option can further reduce costs by requiring less parts for some projects. For example, retrofitted stair treads can be placed over existing treads while leaving the original stair risers intact.
In this case, the stair tread would be replaced, but if it's in good condition, the riser can be left in place. Simply installing the retrofit treads on top of the original without having to tear out parts makes that remodel both less labor intensive and time consuming.
Considerations When Purchasing Retrofit Stair Parts
Before deciding on retrofit stairs, homeowners must carefully consider a few things. First, it's important to make the correct measurements of your current stairs. Proper measurements help ensure that your purchased stair parts fit correctly, and that you haven't order too little or too much material. Equally as important is understanding your local building codes.
For safety reasons, many local municipalities implement building codes, including residential stair codes and stipulations. It's important that any building codes are followed. Keep in mind that retrofit stair treads include a nose that aligns the entire horizontal end of the plank of wood. This is a rounded edge that overhangs to hide the original stair tread wood and should always be included within the proper measurement range.
Refer to your local guidelines code for stair riser height and stair tread depth measurements. Generally, stair tread depth must be at least 10 inches but will have to include nosing projections. Without nosing though, the tread's depth cannot be less than 11 inches. As for stair risers, while excluding carpeted rugs and runners, risers should never exceed 7 ¾ inches in height. However, these requirements may vary.
In addition to stair riser and tread guidelines, be sure to give attention to other residential building codes in respect to stair width, handrails, headroom, and vertical rise for stairs. We encourage you to review these specifications closely since they were implemented to prevent injury and promote safety for both your family and guests in your home.
Retrofit Stair Part Options from The Hardwood Lumber Company
At the Hardwood Lumber Company, we value quality craftsmanship and providing our customers with a large number of options. We offer retrofit stair parts in a number of options, including wood species, nosing style, finish, and texture. We can also work with you on a custom order if our standard options aren't right for your home. You can contact our sales team or place a custom order online. Click below to shop our online selection of standard stair parts.