Posted by The Hardwood Lumber Company on Feb 11th 2021
If you're planning to replace your countertops, you might be overwhelmed by the amount of material options and styles. It can be difficult to decide which countertop option is best for your home. To make the decision easier, we'll explore the benefits and drawbacks of two popular countertop materials: butcher block and laminate.
What Are Butcher Block and Laminate?
Before we share their benefits and drawbacks, let's begin with a brief overview of both types of material.
Butcher Block
Butcher block is a type of countertop that is made from strips of wood, typically the end grain. End grain wood is cut horizontally from the log. By cutting the wood in this way, the intricate patterns from the tree's rings are visible.
These strips are fused together, creating the appearance of many "blocks." Butcher block is such a durable material that it has been used in butcher shops for centuries (hence the name) and only recently has been used in the home.
Laminate
Laminate countertops are made from a layer of paper or plastic that is laminated to a particleboard base. The paper can be colored in a large number of ways, so laminate counters can appear to be made from different materials.
Butcher Block vs Laminate Counters: Pros and Cons
Butcher block and laminate are both common countertop options. Both offer unique benefits but come with their own drawbacks. We'll explore the pros and cons of both in more detail below.
The Benefits of Laminate Counters
Laminate countertops have many advantages over butcher block. The biggest advantage for laminate is its price point.
Though laminate can resemble expensive materials, it's typically only one-third of the price of butcher block. Alongside being less expensive, laminate can also help homeowners save on installation costs.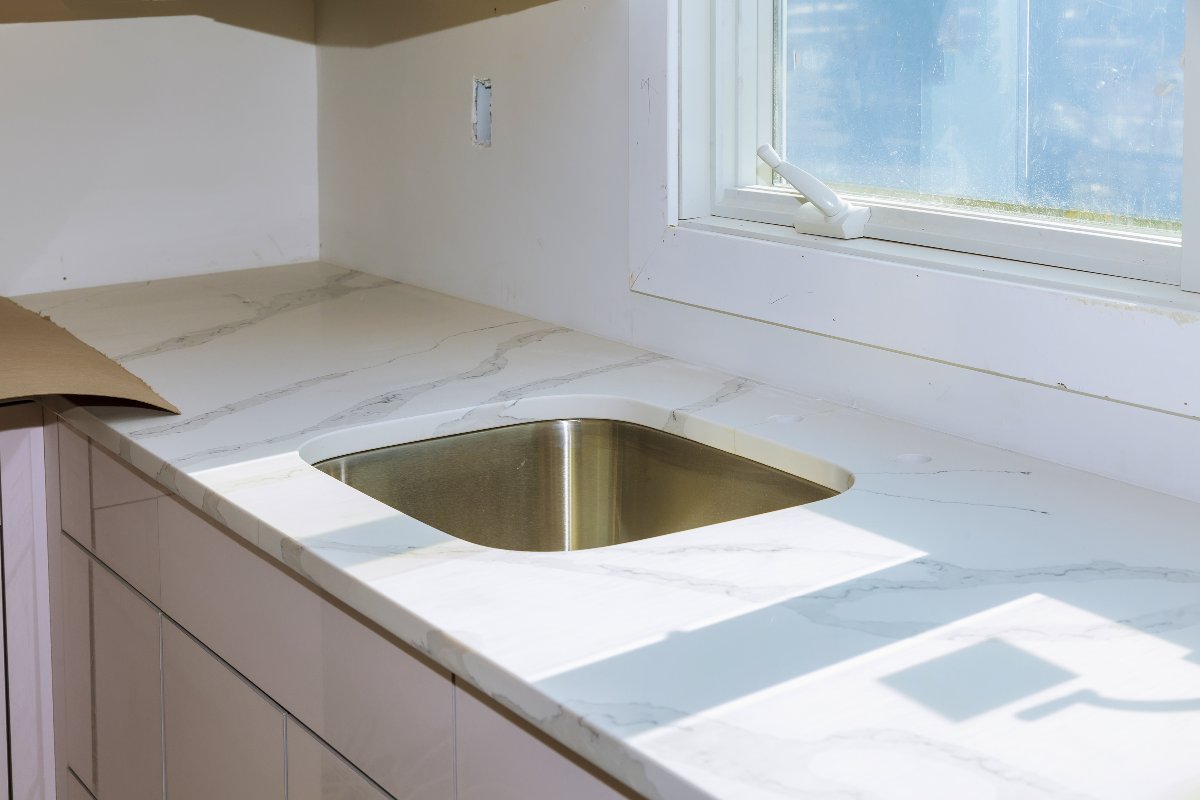 Pieces of laminate are more flexible than hardwood. This makes it easier to wrap them around a corner or tight bend. If you're planning on a simpler DIY remodel, installing lightweight laminate is much easier than installing butcher block. Laminate is also fairly water resistant and simple to maintain.
Laminate's Drawbacks
A laminate countertop has several drawbacks. The most significant is its lack of durability.
Laminate is easily damaged. Knives and other cooking utensils can easily cut or puncture through its surface. This means you shouldn't prepare food directly on it. Because laminate is not as durable, it also begins to quickly show signs of wear.
Laminate will need replaced more often than butcher block. A general rule of thumb is to replace laminate countertops once every ten to twenty years.
Additionally, laminate countertops do not add to a home's value. This is due in part to how common it is and because it needs replaced more often than other materials.
Lastly, while laminate is made to resemble other materials, it's usually a poor imitation of the material it's trying to resemble. Materials like butcher block offer a depth and visible wood grain that creates an authentic natural look. Meanwhile, materials like granite have layers beneath the surface which helps to provide its well-known shine and sparkle.
The Benefits of Butcher Block
Butcher block countertops have much to offer that laminate countertops do not. For starts, butcher block is extremely durable.
You can prepare food directly on a butcher block countertop. Since hardwood is a naturally tougher material, it will last much longer than laminate.
Small cracks and cuts in butcher block can be easily filled and fixed. Furthermore, by regularly refinishing the wood, additional damage can be outright prevented.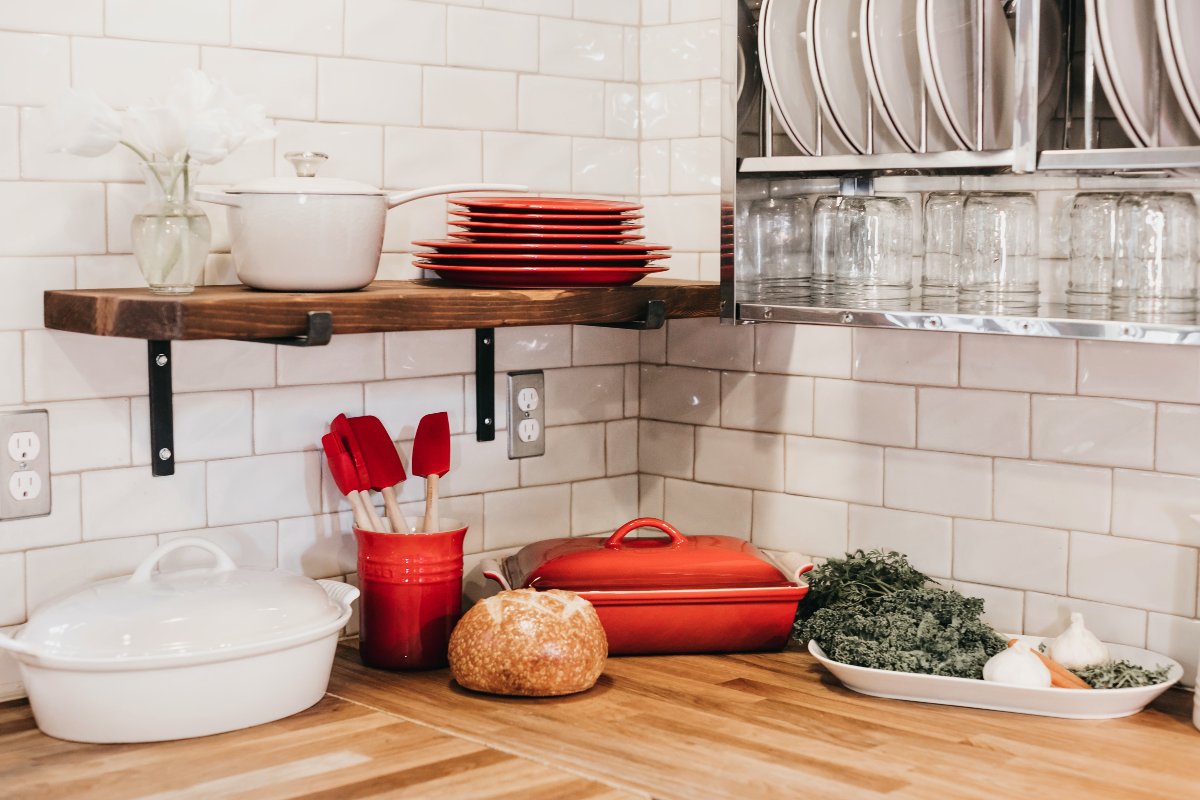 Since butcher block is a higher quality material, it adds to your home's value. This makes your kitchen remodel much more of an investment into your home.
Lastly, butcher block can be made from a wide variety of wood species, offering an immense selection of colors and patterns. The natural hues of wood are warm, natural, and complement a wide range of interior design styles. This makes it an ideal material for almost any home.
The Downsides of Butcher Block Counters
Like any material you choose, butcher block is not perfect. For some homeowners, butcher block may be an expensive investment.
Compared to other common materials, particularly laminate, butcher block is a much higher price point. While it's easier to install than granite, butcher block requires a more involved prep and installation process than laminate. Also, like other countertop materials, wood can be cut, scratched, and burnt. These marks may be hard to treat once they've been made.
In order to prevent cuts and to maintain its waterproofing, butcher block must be regularly treated and maintained. Overall, keeping a butcher block countertop looking its best requires more effort than maintaining laminate.
Find the Right Butcher Block Countertops for Your Home
When deciding which material is best for your home, it's important to familiarize with your options. The Hardwood Lumber Company has a great selection of butcher block countertops in a number of wood species and edge options.
Shop our catalog of custom butcher block options today